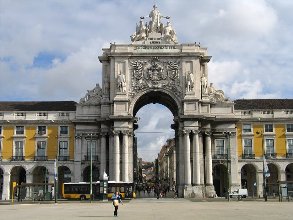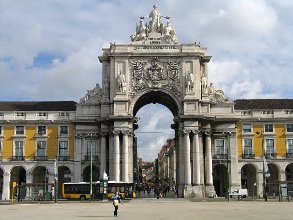 Arco da Rua Augusta
Portugal: Huge Solar Potential in Lisbon's Historical Downtown
The historical downtown area of the Portuguese capital, known as Baixa Pombalina, has a collector area potential of 100,000 m2. This is the result of the study "Carta do Potencial de Integração de Sistemas Solares na Baixa Pombalina", which was developed within European project ProSTO – Best Practice Implementation of Solar Thermal Obligations – coordinated by Lisbon's Municipal Energy and Environment Agency, Lisboa E-Nova, in cooperation with the city council and IGESPAR (Portuguese Institute for the Management of Architectural and Archaeological Heritage). The photo shows the Arco da Rua Augusta – the entrance to Baixa Pombalina.
Photo: Wikipedia
Buildings in need of renovation across Baixa Pombalina represent exceptions to the standard Portuguese regulations (decrees 79/2006 and 80/2006), as the quarter is part of the city's historical heritage. However, including the "Carta de Potencial" in the area's strategic planning document (Plano de Pormenor de Salvaguarda da Baixa Pombalina) still makes a feasibility study mandatory each time before a solar thermal installation can be set up on a building classified by the document as "suitable" (see attached study and presentation).
According to Lisboa E-Nova, it would be possible to meet 70% of the domestic hot water requirements of the on average 6,500 occupied residential units in the historical quarter by setting up solar thermal collectors in only 17% of the 'suitable' area. The authors of the study calculated with the following energy demand: Three baths per accommodation and one bath/shower with daily 2.1 kWh (40 litres per day and head heated from 15 to 60 °C) results in a total energy consumption of 14.9 GWh for domestic hot water each year.
The authors of the study analysed 652 buildings, classified the areas (as available, semi-available and not available), as well as determined their roof orientation, average slope, incident solar radiation and the solar thermal systems' performance ratios.
What the document shows is, "just one example of the potential that exists for buildings classified as historical heritage. It is a result which can be replicated locally and nationally," said Joana Fernandes, Engineer at Lisboa E-Nova. In this sense and in order to continue the work of the ProSTO project, Lisboa E-Nova is currently participating in the new European project "Urban SolPlus" coordinated by Riccardo Battisti, Researcher at Ambiente Italia. This project started in June 2011 and aims to promote the installation of solar thermal systems in buildings and multi-residential buildings classified as historical heritage.
More information:
Lisboa E-Nova: http://www.lisboaenova.org
ProSTO: http://www.solarordinances.eu
Urban SolPlus: http://www.urbansolplus.eu