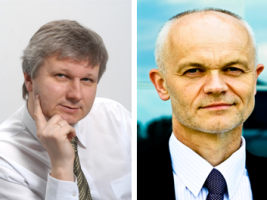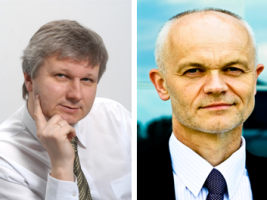 Poland: Rapid Growth in 2011
The stagnation in the Polish solar thermal market in 2010 seems already ancient history: The Polish Institute of Renewable Energy – EC BREC (IEO) – expects the solar thermal market to grow by one third this year. "We estimate that up to 200,000 m2 of solar collectors will be installed in Poland in 2011," IEO President Grzegorz Wiśniewski (right) says. One reason for the upward trend is that the residential subsidy programme by NFOŚiGW has been gaining momentum. "At the beginning, the programme was subject to many limitations. It did not allow grants for collector systems in new homes and those generating energy for home heating systems," Janusz Starościk (left), Head of the Association of Manufacturers and Importers of Heating Appliances (SPIUG), explains. "These barriers were removed in January 2011, which greatly increased people's interest in the programme".
Photo: APIHE/IEO
According to the IEO, the market will enjoy NFOŚiGW grants of Polish Zlotych (PLN) 100 million this year. Even more money will be distributed through regional operational programmes: The IEO states that solar collector buyers will receive additional PLN 240 to 270 million from these sources alone. And, another substantial cash injection might come from a special fund of the Swiss government, which has recently begun to promote solar thermal projects.
Sources in the industry confirm that the market is now growing strongly. "We have received so many orders recently that despite increasing production, our clients have to wait 2 to 3 weeks for their collectors," Leszek Skiba, President and owner of Polish collector producer Hewalex, says. According to Skiba, the company has manufactured 50 % more in the first half of 2011 than in the same period in 2010. The last two months (May and June) showed an even better rate, as Hewalex had to double its production to meet its demand. The majority of orders comes from the Polish market: "Whereas last year, we exported 25 % of our production, the share dropped to 15 % this year," Skiba says.
However, Wiśniewski is worried about what will happen when the grant sources run out of budget: "Unless new system regulations are introduced, we will have to deal with risking a decline in the sales of collectors in two or three years, when the EU grants stop and new ones cannot be expected to be granted before 2017," Wiśniewski explains. New regulations aiming at providing long-term assistance to stabilise the solar thermal market are going to be subject of public consultations after the October elections. The Polish government then plans to publish its draft for a new renewable energy law. Among other measures, the document may implement tax deduction for solar collector buyers. "This would be the best type of subsidy scheme, it works excellent in Italy," Wiśniewski says. "The simplest system is the best solution," Skiba agrees. He criticises the NFOŚiGW grant scheme for its complexity: "The requirement of using a bank loan to buy a collector, as well as the bureaucratic procedures have discouraged many potential clients from benefiting from the grants,"
This news was written by Marcin Czekanski, a Polish journalist specialised in renewable energies and based in Szczecin, Poland. mczekanski@econaviga.eu. A longer version of this article was published in the international magazine Sun & Wind Energy 9/2012 on page 40/41 (http://www.sunwindenergy.com).
More information:
http://www.ieo.pl/
http://www.spiug.pl/
Special fund of the Swiss government: http://www.programszwajcarski.gov.pl