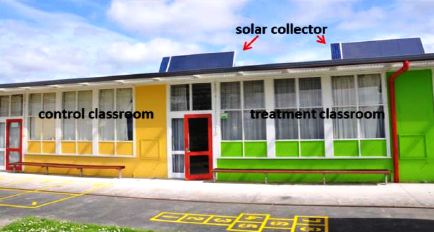 New Zealand: Prized School Air Heating Project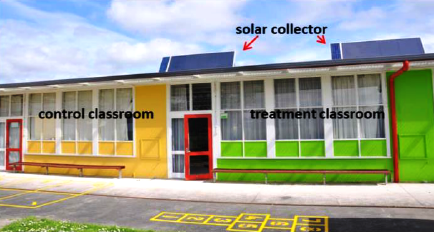 A New Zealand research project which deployed solar air collectors in schools to improve pupils' health while reducing heat costs has garnered an award by the New Zealand Institute of Building this year. Robyn Phipps, Professor in Construction at Massey University's School of Engineering and Advanced Technology, won the award for her research project conducted in cooperation with the Australian subsidiary of Danish air collector manufacturer Solarventi. The project led to the installation of solar air heating systems in ten classrooms of five primary schools in wintertime in 2013 and to the implementation of another batch of systems in 12 classrooms of six primary schools the following winter. Monitoring data showed that attaining similar temperatures in the control classrooms required 2.5 times the thermal energy used in the solar-heated ones.
Photo: Solarventi
The Solarventi collectors draw in air through small holes in the perforated back plate of their casing and use sunlight to heat up the air once it is inside. Then this warm air is blown into the room at 35 to 200 m³ per hour, depending on what type of panel is chosen. The Danish air collectors do not require grid electricity, as the fans are supplied by built-in solar cells. "It is important to combine health and renewables. It improves the business case for the technology, and clients often value health improvements more than energy saving," explained Hans Jørgen Christensen, Owner of Solarventi in Denmark. Sometime after the project was over, Solarventi introduced different options for operating the fans without sunlight. It is even possible to use forced ventilation based on a room's CO2 content.
Professor Robyn Phipps
Photo from the list of winners on nziobawards.org.nz/
"As a school's operating hours coincide with peak daylight hours needed for solar heating, it is common sense to use free solar energy for heating the air. However, this is a novel concept in most countries," Phipps was quoted as saying in a press release by Solarventi Australia. "Analysis of the data is ongoing, but it could be an effective tool in reducing incidents of streptococcus within New Zealand schools."
Preliminary results from the data, which was collected until October 2014, are listed in the attached paper published during the same year. Some of them are:
Half the time, the incoming air was above 30 ˚C.
The flow rate of inlet air peaked at 83m³/h. At this rate, it takes 2.5 hours to warm up an entire classroom (assuming a room volume of about 200 m³).
To achieve similar temperatures, the control classrooms had to use 2.5 times more heating energy than the adjacent active ones.
Two-thirds of active classrooms kept exposure to carbon dioxide below the recommended level.
"Air heating goes far beyond warming up a room," said Christensen. "Solarventi plans to launch a patented collector model filled with silica gel to dehumidify problematic basements and cellars or even rooms in tropical regions combined with a certain cooling effect."
Websites of institutions and companies mentioned in this article: