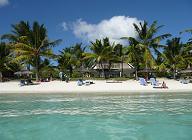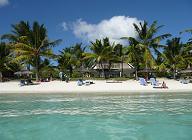 New Incentive Programme in Mauritius: Rebates for 50,000 Systems in Five Years
A sunny island that is not only a good place for tourists, but for solar water applications as well: The French Island of Mauritius experiences a great demand in support schemes for solar water heaters, albeit the administration of the programmes is showing some administrative difficulties.
Source: http://www.mauritius-erleben.de
From the 1st of April 2010 on, Mauritius is going to have a new grant scheme for solar water heaters (SWH) of Mauritian Rupees (MUR) 5,000 (EUR 120*). "The purpose of the solar water heater programme is to encourage the switch from electricity and gas to renewable energy," Arvind Deesoruth from the Technical Support Unit of the Maurice Ile Durable Fund (MID) within the Ministry of Renewable Energy and Public Utilities, explains. The Mauritian Government has decided to include a grant for solar systems of MUR 5,000 under new criteria and guidelines in its 2010 budget, in order to assist 50,000 households with purchasing solar water heaters. The programme is going to run until December 2015. According to Deesoruth, grants will be provided only for products which meet the standards the Mauritius Standards Bureau (MSB) will define for it
The previous incentive programme granted, all in all, MUR 10,000 to each domestic user who purchased a solar water heater. The 2008/2009 national budget planned with MUR 25 million for a total of 25,000 applications – but the support scheme was more attractive than had been foreseen. The Maurice Ile Durable Fund, which was responsible for the administration of the programme, received 49,000 applications within one and a half years alone.
In his November 2009 budget speech, Dr. the Hon. Rama Sithanen, Minister of Finance and Economic Empowerment, declared the previous incentive programme to have been "an outstanding success". According to Sithanen, MUR 290 million have been approved for 29,000 solar water heaters – in excess of the MUR 250 million earmarked in the Maurice Ile Durable Fund.
As good as it sounds: there are some drawbacks for the manufacturers and system suppliers on the island. "Our sales almost doubled after the start of the incentive programme in August 2008 until the Mauritian Government suddenly decided to stop the grant in March 2009," explains Raj Appalaswamy, Brand Manager at Kaylor Rotomoulders Ltd. The sudden halt due to overwhelming demand came much earlier than the originally announced end of the programme in December 2009.
In addition, he thinks the early announcement of programmes is actually slowing down the market: "Our sales have gone down drastically since the November 2009 announcement of re-introducing the programme from April 2010 onwards, as many people are waiting for the grant allocation before taking a decision."
According to Appalaswamy, the same happened with the previous support programme in 2008: After the announcement in May of that year, the sales of Kaylor Rotomoulders had decreased until the MID application process finally began in August 2008.
Grants are an important driver of the solar thermal market in Mauritius. "Since we are a sunny, tropical island, most Mauritian citizens will certainly like to have a solar system, but, unfortunately, many people can't afford to buy one due to the relatively high costs involved," Appalaswamy explains the urgent need for a continuous support scheme.
More Information:
Development Bank of Mauritius: http://www.dbm.mu
Mauritius Standards Bureau (MSB): http://www.gov.mu/portal/sites/msb/index.htm