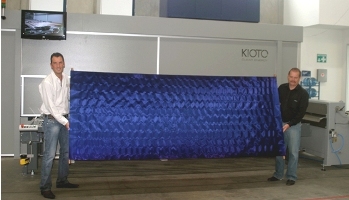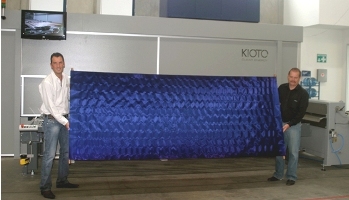 Mexico: Two Collector Manufacturers upgrade their Collector Production
Products turn out big at Kioto Clear Energy: Sales and Marketing Director Marlon Rechberger (left) and General Manager Klaus Maier present a laser-welded absorber produced by the newly purchased laser-welding machine. 
Photo: Kioto Clear Energy
They could not be more different – the two collector manufacturers in Mexico which announced the purchase of a new absorber production machine in July: Sunway de México and Kioto Clear Energy.
The former purchased an ultrasonic-welding machine for fins with an annual capacity of 100,000 m2 from German machinery supplier Ultrasonics Steckmann. "We will improve our panels in appearance and increase production speed," Jorge Dávila Garza, founder and owner of the company, which has soldered copper pipes to copper fins for decades, explains.
The latter purchased a laser-welding machine with two heads and an annual capacity of 400,000 m2 from a German machinery supplier. "The machine can weld absorber sheets up to a size of 4 times 10 feet, the typical size of large US-American collectors," Sales Manager Marlon Rechberger, who wants to offer OEM absorbers to US-American collector manufacturers, elaborates.
And what is the history of these two very different companies?
Kioto Clear Energy, a subsidiary of the Austrian Kioto Clear Energy AG, began to produce collectors just one year ago. In the first year after its founding, the company had received its absorbers from Austrian manufacturer Greenonetec. Currently, the company has a staff of 30 and delivers collectors to 8 different countries in North, Middle and South America. "We can weld copper/aluminium absorbers and copper/copper full-plate absorbers in many different sizes. We are therefore well-equipped for dealing in the US, as well as the Latin American market."
Ready for export: Jorge Dávila Garza, founder and owner of Sunway de México, at his booth at June's Intersolar Europe in Munich, Germany.
Photo: Bärbel Epp
Sunway de México started manufacturing glazed flat plate panels and tanks in 1980 and aims at exporting the new ultrasonic-welded collector type. The independent company employs only a hand full of people for the production, delivery and partly the installation of its systems. Company founder Dávila Garza's special expertise is the installation of larger solar heating systems for hotel swimming pools. "We have delivered to around 130 hotels over the last years, and our glazed collectors guarantee a water temperature of 30 °C during 10 months of the year," he says. There is a great interest in his products, because hotels can write off the entire investment in the first year.
More information:
Sunway de México: http://www.sunwaymx.com.mx/
Kioto Clear Energy: http://www.kioto.com
Ultrasonics Steckmann GMBH: http://www.ultrasonics.de/