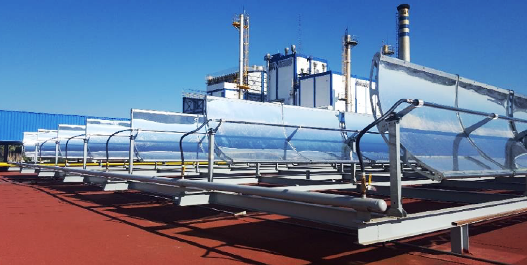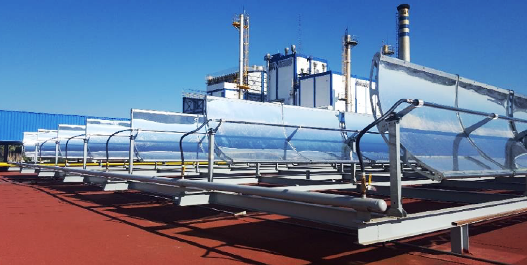 Mexico: Solar Process Heat Beats Fossil-Fuel Boiler in Energy Cost
Mexican company Inventive Power helps industrial customers to reduce their energy costs, which in turn reduces pollution in major cities. "Besides traffic, industrial boilers are responsible for much of the pollution in urban areas," Ángel Mejía Santiago explained during the Intersolar Europe. The founder and CEO of Inventive Power emphasised that concentrating solar systems could offer energy at significantly lower cost than thermal power generation by natural gas or oil. Santiago sees great market potential in the technology, as there have been 32,000 boilers and water heaters installed across the country – at hotels and hospitals as well as food and beverage companies. The photo shows a parabolic trough installation with 433 m² of mirror aperture at the Nestlé dairy factory in Lagos de Moreno, central Mexico, which started operating in 2014. 
Photo: Inventive Power
"Nestle is an interesting partner because the food producer decided to replace their fossil steam boilers gradually," Aldo Agraz Huitron, CTO of Inventive Power, said during the Intersolar Europe side event Mexican Energy Transition: New Opportunities for Solar Technology & Business, organised by the German Agency for International Cooperation, GIZ. The provider of turnkey solar process heat installations had already completed a second project at Nestle´s factory in Chiapa de Corzo in 2014 (see the table below).
Dairy factory in Lagos de Moreno

Dairy factory in Chiapa de Corzo

Installed mirror aperture

245 m²

224.5 m²

Heat transfer fluid
(solar collector loop)

Water

Water

Backup heating system

Steam boiler running on natural gas

Steam boiler fired by LPG

Temperature range of solar loop (min/max) °C

80/95

80/90

Total investment
(excl. VAT)

EUR 130,000

EUR 100,000

Specific investment cost

531 EUR/m²

445 EUR/m²
Description of the two concentrating systems set up on behalf of Nestlé Mexico. Both installations were not subsidised. The generated solar heat is used for pasteurisation.
Source: ship-plant.info
The cost of solar process heat is significantly below the cost of boiler heat generated by fossil fuels, Huitron confirmed. The Power Trough collectors produce energy at an average 0.32 MXN/kWh (or 0.018 USD/kWh) based on a system lifetime of 15 years (see the table below) – a seventh of the cost of kilowatt hours produced by diesel boilers (2.2 MXN/kWh) and a fifth of heat generated by LPG boilers (1.75 MXN/kWh), according to a comparison made by Inventive Power.
Project location

Guadalajara/Jalisco/Mexico

Number of Power Trough 110 solar collectors

160

PTCs

Solar collector area

528

m²

Initial water temperature

20

°C

Final water temperature

90

°C

Average daily irradiance

6.6

KWh/m²

Solar heat /(saving) generated from Power Trough 110

1,673

Whth/day

Solar heat/(saving) generated from Power Trough over 15 years

9,158,054

kWhth

Total investment

2,967,155

MXN

Average price of saved kilowatt-hours of heat

0.32

MXN/kWhth
Economic analysis of a solar process heat case study, resulting in an average price of saved kWhth
Source: Inventive Power
Inventive Power offers two different solar concentrating solutions with Power Trough collectors: model 110 (3.09 m² of aperture) for 50 to 200°C applications and version 250 (12.1 m² aperture) for applications ranging from 90 to 250 °C. "We use non-evacuated receiver tubes for the smaller trough collectors and evacuated receiver tubes for the larger ones," Huitron explained. "We purchase the receivers from China and manufacture the parabolic mirrors on site in Mexico."
Inventive Power was founded in 2010 by Santiago and Huitron. The start-up received seed capital from two investors: Mexican venture capital business Angel Ventures Mexico and US-based non-profit organisation Endeavor which, by its own account, is leading the high-impact entrepreneurship movement in growth markets around the world. Inventive Power engages 24 staff and has installed around 35 solar process heat plants.
Institutions and companies mentioned in this article: