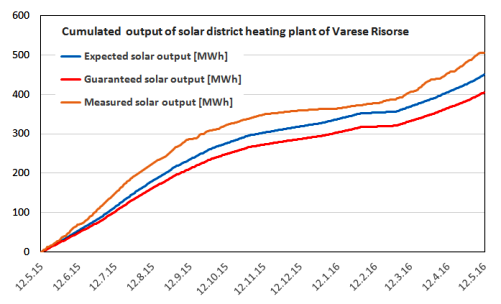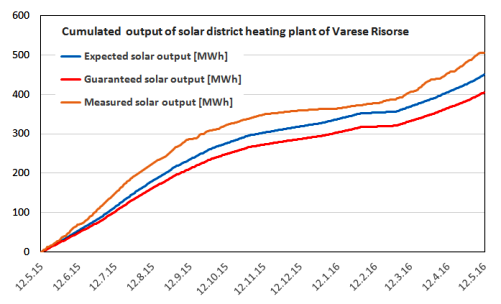 Italy: First-Year District Heating Yield Better than Expected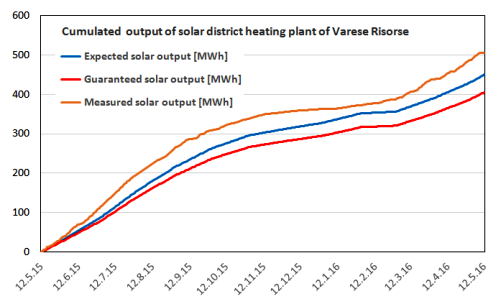 The first and so far unique solar district heating plant in Italy completed its first year in operation in mid-May this year. According to metering by the operator of the 990 m² collector field, utility Varese Risorse, output was significantly higher than expected. The chart shows the total output measured over almost 12 months: It was 13 % higher than the target figure. The solar district heating plant was developed and installed by a newly founded Italian company, SDH Energy, which also guaranteed the solar yield (red line).
Chart: Varese Risorse/SDH Energy
When analysing overall energy output, the system produced 485,500 kWh in its first year in operation, more than the expected 429,571 kWh and despite 5 % lower-than-anticipated solar irradiation. The following table provided by Varese Risorse and SDH Energy shows monthly performance data, focusing in particular on irradiation and energy output:
Solar irradiation (kWh/m²)

Energy output (kWh)

Target

Actual

Difference

Target

Actual

Difference

May 15 (13-31)

99

95

-4 %

33,174

39,470

19 %

Jun 15

159

170

7 %

54,184

75,430

39 %

Jul 15

181

181

0 %

69,829

83,000

19 %

Aug 15

161

157

-3 %

59,386

67,900

14 %

Sep 15

138

117

-15 %

46,633

43,000

-8 %

Oct 15

110

97

-12 %

32,872

29,900

-9 %

Nov 15

78

74

-6 %

16,650

16,500

-1 %

Dec 15

77

53

-31 %

15,351

8,100

-47 %

Jan 16

75

56

-25 %

23,664

9,600

-59 %

Feb 16

37

58

56 %

4,244

14,200

235 %

Mar 16

124

131

5 %

33,726

50,000

48 %

Apr 16

137

123

-10 %

39,858

48,400

21 %

Total

1,376

1,312

-5 %

429,571

485,500

13 %
Comparison of metered and simulated output 
Source: Varese Risorse/SDH Energy
The lower energy output in winter can mainly be attributed to a sizeable reduction in solar irradiation with respect to design values. This reduction is a result of the large shadows that some higher trees than foreseen have cast on parts of the solar field. The negative impact of less sunlight has led to a significantly under-performing system in winter – despite lower-than-anticipated grid return temperatures (see the following chart) during the cold season, which should actually increase plant performance. Of course, such losses can be avoided in the future by reducing the crowns of the trees surrounding the installation.
During the rest of the year, especially thanks to the lower return temperatures, the solar plant shows quite a performance compared to initial calculations and despite lower solar irradiation over many months.
Lower-than-expected return temperatures almost all year around 
Source: Varese Risorse/SDH Energy
A most noteworthy month was last July, when the solar yield showed an impressive +19 % during a month with normal solar irradiation. The operator has not been absolutely certain about the reasons for the strong increase, but has suggested two factors: Higher average ambient temperatures than in the calculation model used during the design phase and an overall higher insulation and control equipment quality.
However, two key aspects are indisputable: The lower-than-expected return temperatures allow for much higher system performance. This is an important technical requirement, especially in light of future solar district heating projects. And second: The auxiliary components of the Varese Risorse plant showed very little electric consumption: about 6.6 kWh per MWh of heat produced, corresponding to 1.1 EUR/MWh.
Outlook: Next, please!
Like in the rest of Europe, the national solar thermal market in Italy is having a hard time, given the concurrence of the economic crisis and the increasing competition by other heating technologies. This is especially true in the single-family building segment, which had always been considered the core business of the Italian solar industry. The case study of the Varese Risorse solar district heating system indicates that – thanks to the
national subsidy scheme
 – the new opportunities lie in market segments for larger applications.
For example, there may be initiatives launched in the Emilia-Romagna region, where the EU-supported project smartReFlex has provided financial assistance for several feasibility studies on solar-biogas or solar-biomass combinations for rural district heating grids in small municipalities.
Soon, two other regions will also be in the limelight thanks to capacity building and support by another EU project, SDHp2m – Solar District Heating … from Policy to Market: Veneto and Aosta Valley.
And, finally, plans have been made to set up a pilot demonstration plant as part of the Horizon 2020 project Flexynets. Developed as a trigeneration system, it is said to include a solar field with small-sized concentrating solar collectors and a boiler, an Organic Rankine Cycle motor and a chiller.
Websites of companies and projects mentioned in the article: