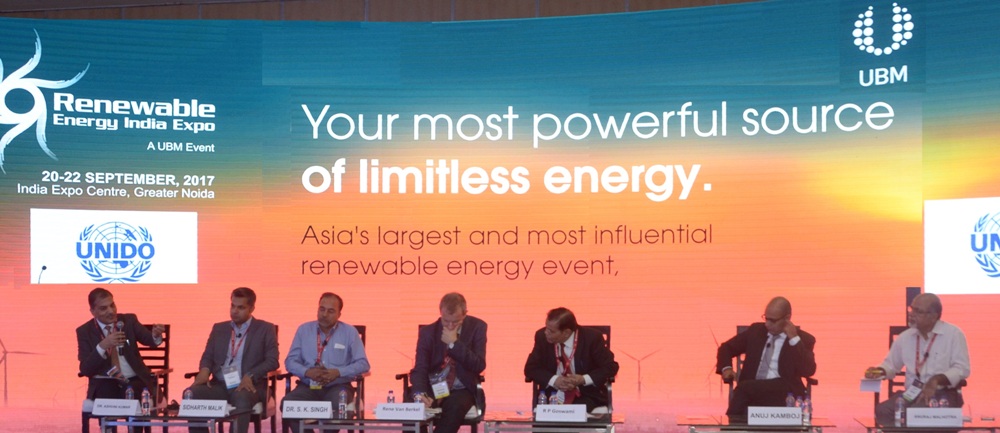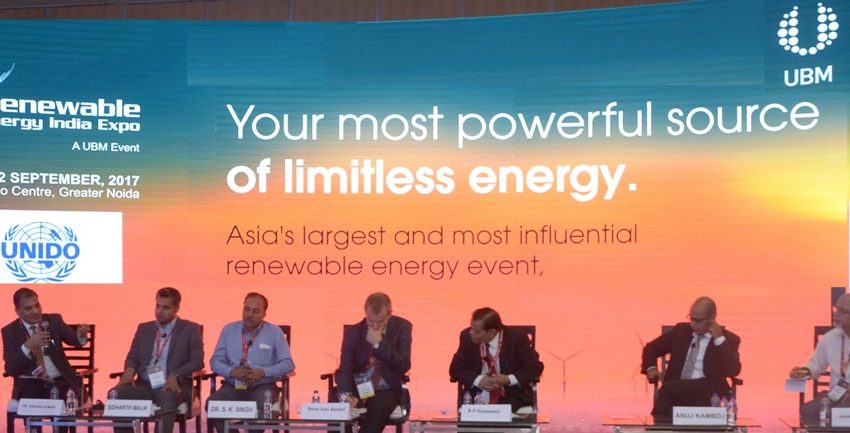 India's Solar Thermal Industry Calls for Awareness Raising to Boost Market
The United Nations Industrial Development Organization (UNIDO) has organised a panel discussion with entrepreneurs and policymakers at the Renewable Energy India (REI) Expo 2017 about the Industrial Application of Concentrating Solar Thermal (CST). Held in Greater Noida near New Delhi from 20 to 22 September 2017, the 11th edition of REI attracted more than 750 exhibitors from 45 countries and was accompanied by a three-day conference titled Accelerating Momentum…From Ambition to Action. UNIDO also announced that it would extend its 5 % interest subvention offer from industrial end users to concentrating dish manufacturers.
Photo: UMB Group/REI
The policymakers who took part in the panel discussion were Dr Ram Goswami (Director – MNRE), Dr Sudhir Singh (Adviser – National Institute of Solar Energy) and Dr Ashvini Kumar (formerly, Managing Director – Solar Energy Corporation of India or SECI). The industry was represented by Siddharth Malik from Megawatt Solutions, Anuj Kamboj from Luit Renewable and Anuraj Malhotra from Quadsun Solar Solutions. The moderator was Rene van Berkel, UNIDO Representative in India.
He also said that the 5 % interest subvention, which had been offered to industrial investors in solar thermal since December 2016, would be extended to manufacturers of concentrating dish collectors to leverage the mammoth potential. The financial scheme has been the first of its kind to benefit manufacturers, as incentives have typically focused on end consumers.
The scheme is managed in cooperation with the Indian Renewable Energy Development Agency (IREDA), which has issued long-term loans at 5 % lower-than-usual interest rates to cover up to 75 % of the investment costs for increasing or improving manufacturing capacities. The manufacturer is required to provide the remaining 25 %.
Goswami from the MNRE said that India had achieved close to 80,000 m2 in solar thermal installations for medium- and high-temperature applications, mainly in cooking, but that industrial process heat was catching up fast, particularly in dairies and food processing. "Presently, the various technologies have conversion efficiencies of between 45 to 60 %, and these need to be improved to make the systems financially viable," he said. He also invited manufacturers to take advantage of the support available for R&D and efficiency increases.
Kumar, formerly Director of the government-owned SECI research institute, expressed concerns about long-term system performance. He said that not enough efforts had been put in R&D to ensure lower prices and achieve commercialisation.
Malik from Megawatt Solutions, a collector manufacturer, summed up his views by pointing to the three pillars that would lay the foundation for market forces: technical awareness, projected delivery based on application and economic viability. He said that solar thermal applications couldn't be compared to solar PV. In any industry, the only alternative to grid power was to use diesel generators. But there were plenty of other options to provide heat, from waste heat recovery to biomass, which meant solar thermal would occupy niche markets only. It is worthwhile to note that in India 70 % of the components used in solar PV are imported, whereas all solar thermal materials are produced locally.
Kamboj from Luit Renewable, a project developer, opined that it was a lack of awareness which prevented industries from considering this type of solar energy. Likewise, there was not enough proper DNI data, which made it difficult to estimate economic viability. But he also said that Indian manufacturers had the necessary expertise and could even consider exporting their manufacturing base to other developing countries, for example, in Africa.
Malhotra from collector manufacturer Quadsun Solar Solutions was more vociferous on the matter. He stressed that additional events were necessary to make the industries aware of all solar options. He also called for quality control to increase investor confidence.
The message from the panel discussion was clear: The focus should be on raising awareness. Second, the market will require a rapid scale-up soon, as the enormous potential has now been identified and demand needs to be created to allow for an increase in production output.
Contact: Dr Anil Misra, National Project Manager, UNIDO, UN House, 55 Lodi Estate, New Delhi 110003; Telephone: +91 11 2460 7113; Email: a.k.misra@unido.org; Mobile: +91 9910 9967 67 
Websites of organisations mentioned in this article:
This text was written in cooperation with Jaideep Malaviya, an expert in solar thermal based in India (malaviya@solrico.com)