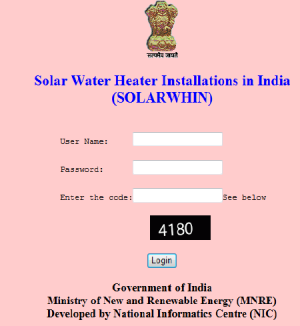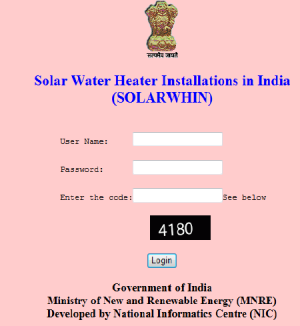 India: Web-based Software SOLARWHIN Monitors Subsidised Systems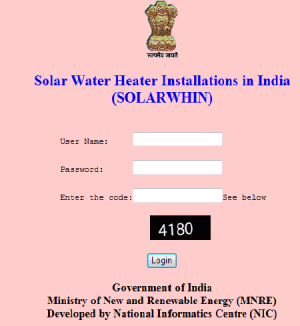 The solar thermal sector seems to appreciate SOLARWHIN, the new database of the Ministry of New and Renewable Energy (MNRE). Of the 98 Channel Partners who are eligible to directly apply for subsidies on behalf of their clients, 47 have already registered online since the software was launched in August 2012. So far, the database, which is hosted on one of the ministry´s servers, includes the details of around 65,000 systems. The web-based tool was developed by the MNRE to monitor subsidised systems and to gather more information on the market. SOLARWHIN is short for SOLAR Water Heater Installations in India. Only accredited Channel Partners have access to the online database (see the screen shot).
Once the MNRE has approved an application for a certain number of square metres, the Channel Partners are required to enter the full customer details, including customer name, address, mobile number etc. (see the following table).
| | | | | | | |
| --- | --- | --- | --- | --- | --- | --- |
| Customer Name & Address | Capacity of the System | Total Cost | Serial No. provided | Invoice No. | Photo of the System installed | Photo of the Customer |
More details are to be added at any time after the installation is complete.
| | | | | | | | | |
| --- | --- | --- | --- | --- | --- | --- | --- | --- |
| No. of systemsapplied for | Total area applied (m²) | Type of beneficiary (Individual / Commercial) | Type of system (FPC/ ETC) | No. of benefi-ciaries | Total no. of systems | Total cost of systems | Subsidy calculated according to m² | Subsidy provided |
All of the details are to be submitted to the MNRE online. According to Tarun Kapoor, Joint Secretary (Solar) at MNRE, more than 65,000 systems are already part of the database.
Until now, the ministry has not published any statistical analysis. But SOLARWHIN may soon make it possible to show, for example, the most up-to-date number of installations in each state or the current share of vacuum tubes versus flat plate collectors at the national and regional level. The database is thought to minimise indivudual efforts to gather information on newly installed systems and to provide market analyses at any given time. In addition, SOLARWHIN may help monitor installation area and subsidy disbursements of all accredited Channel Partners.
Customers will receive a text message immediately after their details have been entered, in order to confirm the subsidy payment.
More information:
http://www.mnre.gov.in