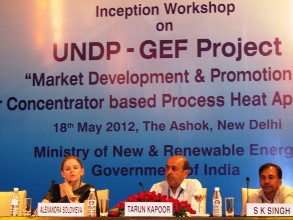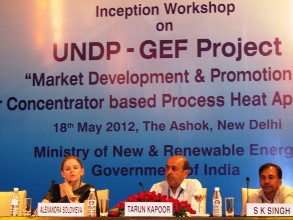 India: 90 Process Heat Projects with Concentrating Collectors in Five Years
On 19 May 2012, the Joint Secretary of the Ministry of New and Renewable Energy (MNRE), Tarun Kapoor, announced the official launch of the initiative Market Development and Promotion of Solar Concentrator based Process Heat Applications. In cooperation with the United Nations Development Programme (UNDP), the MNRE will support 30 demonstration projects (15,000 m²) and 60 replication projects (30,000 m²) of process heat applications with concentrating solar thermal collectors across at least five different sectors between 2012 and 2017. The aim is to create a wealth of information about all of the supported projects, including feasibility studies, detailed project reports and performance results.
Photo: Jaideep Malaviya
So far, India has seen around 70 Concentrating Solar Heat (CSH) installations, which amount to a total collector area of 20,000 m². Present CSH sales per year are around 2,000 to 3,000 m². Most of the existing Indian CSH installations are intended for institutional cooking, while other applications can be found at dairy farms, food-processing companies, in metal treatment and space cooling. MNRE has already been supporting these installations with a 30 % subsidy on the total project costs.
The five-year programme will have a total budget of USD 23.75 million. The Global Environment Facility (GEF) is going to contribute USD 4.4 million to the programme, whereas MNRE plans to provide USD 6 million in form of grants and USD 1.35 million worth of services. The contributions from the industries, as well as financial institutions are said to be USD 6 million each. The budget will be spent on supporting measures, not on direct investment subsidies. Planned measures include supporting the introduction of new CSH technologies, developing information packages, standardising CSH performance measurement, extending technical capacities and creating awareness of CSH systems among stakeholders. There will also be a training programme for 300 representatives of manufacturers, installers and CSH users.
The implementing partners are the MNRE and the Solar Energy Centre, India's leading solar energy testing laboratory. In his speech, Kapoor called on all of the stakeholders, whether they are manufacturers, R&D institutions or project developers, to reduce costs, so that the systems can be self-sustaining until the end of the programme.
The background: The industrial sector is, after the residential sector, the sector with the second-largest consumption of energy in India. Industries which use a lot of energy, such as the pharmaceutical, chemical, metal treatment, textile, food or dairy processing sector, have a significant requirement for low to medium temperature heat (up to 250 °C) in the form of steam, hot water, hot air and hot oil. The demand for low to medium temperature heat is primarily covered by fuel oil, coal (for larger heat loads), biomass, and electricity for cooling. Low-cost natural gas has not yet been widely available for process heat usage in India.
On the other hand, India has a strong solar energy potential of around 5 to 7 kWh/m²/day. A significant part of India's low to medium temperature process heat requirements could be met by concentrating solar heat (CSH) technology systems – in combination with suitable process integration and efficient heat storage. This would reduce global CO2 emissions, local air pollution, and India's growing dependence on expensive oil imports.
Caitlin Weisen, Country Manager at UNDP India, greatly appreciated the launch of the programme and called it a "clear solar roadmap". It is the first time that any UNDP office supports a process heat programme with concentrating collectors. Since 2009, the UNDP has already been running a project entitled "Global Solar Water Heating Market Transformation and Strengthening Initiative: India Country Programme", which it has managed together with MNRE. Part of this initiative has been the launch of the website http://www.solarwaterheater.gov.in/ to help any potential client to better understand how a solar water heater works and which advantages it offers. The web portal also contains important statistics on yearly achievements, the list of manufacturers approved by the Bureau of Indian Standards & MNRE (incl. their contact addresses), the guidelines on how to obtain capital subsidies and other kinds of relevant government information.
More information:
http://www.mnre.gov.in
http://www.solarwaterheater.gov.in/