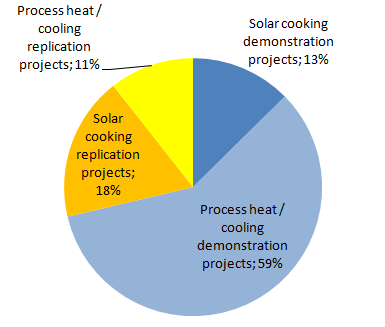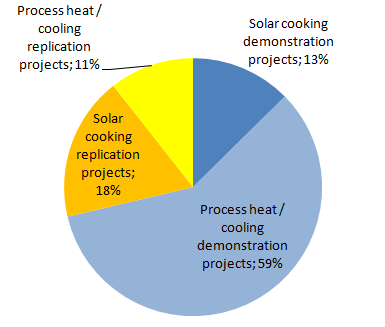 India: UNDP Supports 53 New Concentrating Solar Thermal Projects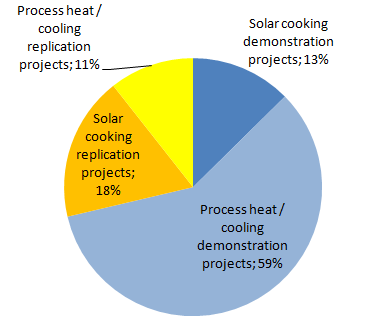 The Concentrating Solar Heat (CSH) subsidy scheme in India, managed by the United Nations Development Programme (UNDP), started in April 2012 with the target to install 90 demonstration and replication projects totalling 45,000 m² of collector area until March 2017. After half the project period had been over, the UNDP was able to present satisfactory results: The scheme has already helped implement 59 projects with a surface area of 16,373 m². The pie chart shows the shares of different applications in the overall collector area. The largest share, 59 % (9,614 m²), is made up of demonstration projects in process heat or solar cooling. 
Source: UNDP
Prior to the UNDP programme, India had 85 concentrating solar systems with about 25,000 m² of mirror area, mostly fixed-focus, single-axis tracked paraboloid (Scheffler) dishes. Technologies related to parabolic trough, parabolic dishes, linear Fresnel reflectors and non-imaging concentrators could hardly be found in the country. Therefore, the executive committee of the CSH project assumed the 16 m² Scheffler dish to be an established technology and put it in the replication category, whereas the other concentrating technologies were classified as demonstration projects.
To date, scheme administrators have already approved 21 process heat and cooling demonstration projects with new concentrating technologies, as well as 16 replication projects with Scheffler dishes (see the following table).
Demonstration
Cooking

Demonstration
Process Heat /
Cooling

Replication
Cooking

Replication
Process Heat /
Cooling

No. of Projects

No. of Projects

No. of Projects

No. of Projects

Scheffler Dishes

2

1

16

1

Parabolic Trough

  –

9

 –

3

Arun Dish

  –

4

4

3

Paraboloid Dish

  –

4

2

1

Non-Imaging

  –

3

Total

2

21

22

8
List of 53 new and subsidised projects between April 2012 and December 2014 in the framework of the UNDP Concentrating Solar Heat programme. The seven repaired and renovated projects were not considered in the table. A total of three solar cooling projects under demonstration schemes and 1 solar cooling project in the replication category were subsidised.
Source: UNDP
There are 3 projects of solar thermal cooling set under demonstration scheme and 1 project under repair scheme.
The Indian government provides a 30 % subsidy for concentrated solar thermal projects, and profitable business enterprises can claim 80 % accelerated depreciation. In addition, there is the UNDP-GEF project's additional subsidy for 15 % of the system costs, capped at INR 0.5 to 7.5 million for projects of 250 m² & above, depending on the technology used. If the project is implemented as an ESCO, an additional 10 % (capped at INR 1.5 million) is available as well. So far the administrators did not receive an application for an ESCO project yet. For more information about subsidy scheme requirements, please see the attached PDF.
According to the UNDP-GEF project team, extensive publicity in newspapers and magazines and a series of nearly 40 industrial workshops has gotten the industries and institutions motivated to join the project.
More information: