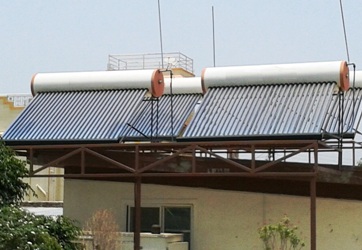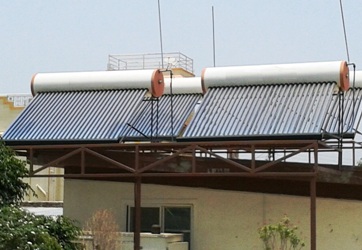 India: Sales Volume in 2013/2014 Far Below Expectations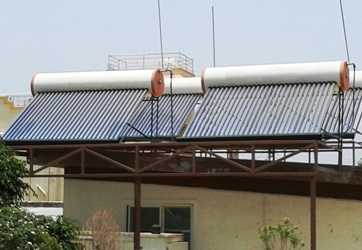 The collector area sold in India during financial year April 2013 to March 2014 was obviously far below expectations: The relevant 65 channel partners achieved sales of 0.85 million m² collector area in these 12 months, almost half of what the companies had planned and reported to the MNRE at the beginning of the last financial year in April 2013. This is the result of the latest study carried out by Pune-based Malaviya Solar Energy Consultancy. Its team contacted all 65 MNRE-registered channel partners and asked them for both their planned and their actual sales figures in 2013/2014. 
Photo: Malaviya Solar Energy Consultancy
Sales volume was so disappointing because of the delayed repayment of the subsidies which are pre-financed by the Channel Partners and which reduce system prices by 30 % when the programme's partners sell them to clients. Solarthermalworld.org had already published
a news piece
about the high financial burden of the Channel Partners back in February 2013. According to the above-mentioned study, the outstanding subsidies have added up to INR 1.8 billion (approximately EUR 22.5 million) over the last 2 years. The study also illustrates the increasing importance of vacuum tubes, which had a share of nearly 75% in the 864,159 m² of collector area newly installed by the 65 Channel Partners. It is said that vacuum tubes have a clear edge over flat plate units in terms of costs and that flat plate collectors are seen as a niche market only.
The following table lists the results of the 14 largest solar thermal system suppliers, including their total sales volume of vacuum tube and flat plate collectors. Depending on the company, the difference between target and actual sales figures is more (90 %) or less (19 %) pronounced.
Rank

Channel
Partner

Target 2013-14
(m2)

Achievement
2013-14 (m2)

Difference
(m2)

1

Anonymous

150,000

108,000

-28 %

2

Sudarshan Saur
Shakti

140,000

84,000

-40 %

3

Tata Power
Solar Systems

120,000

48,000

-60 %

4

Jain Irrigation
Systems

102,053

42,145

-59 %

5

Emmvee Solar
Systems

100,000

81,202

-19 %

6

Redren Energy

65,000

33,000

-49 %

7

Anu Solar
Power

60,000

25,000

-58 %

8

Greentek India

60,000

6,000

-90 %

9

Electrotherm
Renewables

55,000

18,000

-67 %

10

Kosol Hiramrut
Energies

50,000

40,000

-20 %

11

Nuetech Solar
Systems

50,000

38,000

-24 %

12

Orb Energy

50,000

30,000

-40 %

13

Bipin Engineers

40,000

25,000

-38 %

14

Inter Solar
Systems

35,000

21,000

-40 %

Total

Total from all
of the survey's
65 Channel
Partners

1,561,253

864,159

-50 %
Largest Channel Partners and their reports on target and actual sales volume in financial year 2013/2014. The top 7 CPs make up 51 % of the market and the top 15 CPs get to 74 %.
Source: Malaviya Solar Energy Consultancy
The total sales of the 65 surveyed channel partners adds up to 864,159 m², which is 26 % lower than the official market figure of MNRE for the fiscal year 20013-2014 which is 1.05 million m². However, both figures are significantly lower than the market volume in 2012-2013 of 1.41 million m². Therefore the survey makes clear that the targets set by India's Solar Mission might not be achieved if the present situation continues. The outstanding MNRE payments have left some leading solar thermal system suppliers close to bankrupt, as even bankers have refused to provide new capital in the current fiscal year. Unless the government intervenes immediately by settling the pending funds, it might be a challenge to achieve the Solar Mission targets until 2022.
Karnataka, Maharashtra and Gujarat are the three leading states in which nearly 75 % of the Channel Partners are located, and meetings were being held to discuss strategies of stop selling systems as net-off subsidies during the present financial year.