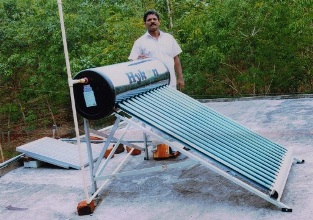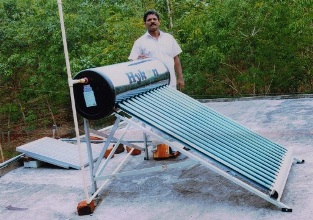 India: Kerala State Subsidy Meets Targets
The new subsidy scheme in the southern Indian state of Kerala has almost reached its aims: The programme subsidised 5,000 m² of collector area in the first three months of 2012, according to the Agency for Non-Conventional Energy and Rural Technology (ANERT). As ANERT Scientist Perumpalot Valsaraj explains, the goal was to support 500 m² of solar collector systems for fish drying, as well as 5,000 m² of residential solar water heaters, of which 40 % were to be equipped with vacuum tube collectors. The photo shows Mohanan Vaisakham, one of the solar water heater owners who profited from the ANERT scheme. The incentive is paid additionally to the federal 30 % investment subsidy.
Photo: Hykon Solar
The main objective of the state incentive programme, which was announced in January 2012 (see attached document), is to raise awareness among the public and propagate the use of solar thermal systems. Since January 2012, the new support scheme has been offering a subsidy of 3,000 INR /m² for 150 litre systems that are equipped with one flat plate or vacuum tube collector of 1.5 m². The subsidy amount for solar thermal fish drying systems is 2,000 INR /m².
All solar water heaters eligible for the Kerala state scheme must first be approved by the Ministry of New and Renewable Energy (MNRE). Whereas flat plate collectors also require the approval of the Bureau of Indian Standards (BIS), vacuum tubes do not have a BIS yet. The applicant can register for the SWH system installation and submit his or her subsidy request to ANERT's main office, to a district office or through MNRE-approved manufacturers.
To be able to claim a subsidy, the applicant is asked to submit the following documents to ANERT or the manufacturer:
Registration form

including systems specification

of SWH system (can be downloaded at ANERT website)
Copy of SWH system bill
Joint Inspection Report on SWH system by manufacturer and applicant
A photograph showing the installed system along with the applicant.
Christo George, Chairman and Managing Director of Hykon, commended the state's initiative. Hykon is one of Kerala's leading businesses when it comes to assembling solar water heaters based on vacuum tube technology. He says that the new scheme had resulted in a 25% growth in his company's sales, as demand among households had been huge, as solar energy was a viable alternative to electrical heating.
But George added how unfortunate it was that the target figure had been set so low. ANERT has announced a target of only 7,500 m² for Financial Year 2012-13. The Managing Director also emphasised how important it was for ANERT to disseminate much more information about the subsidy scheme among the public.
More information:
http://www.anert.in/