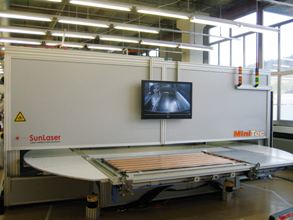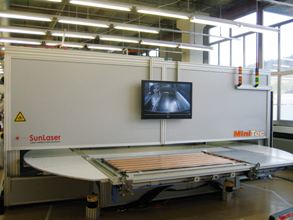 Hungary: Minitec delivers a Laser-welding System to Velux
Laser-welding machine with a horizontal rotation table: This machine by the Switzerland manufacturer Minitec was ordered by the Danish Velux Group for its collector factory in Fertöd, Hungary. The worker can control the welding operation inside the machine on screen, while placing another pipe register and absorber on the rotation table.
Photo: Minitec
"The laser welding machine by Minitec and Sunlaser offers a very high process reliability, combined with an optimal production speed and efficiency,"the responsible project manager from Velux, Istvan Konya, emphasises. The Velux Group possesses manufacturing companies in 11 countries and carries one of the strongest brand names in the global building materials sector. The group's products are sold in most parts of the world. Since 1999, the Velux product range also includes thermal solar panels for in-roof installations.
Starting its own collector production in Fertöd, Hungary, at an existing Velux factory has only been a very recent development in the group's history. In a first step, the company has decided to buy absorbers by an Austrian manufacturer. Nevertheless, Velux plans to later produce its own absorbers with the new laser-welding machine – from mid-2010 on.
The machine is equipped with a laser by the German manufacturer Trumpf and possesses a fully remote maintenance control for the welding equipment. A touch screen serves as the user interface. The maximum pulse speed, with which the laser can run across the absorber plate, is 20 m/s, according to its manufacturer.
The horizontal rotation table complements the machine's efficiency: A worker can already fix the harp-type register to the absorber sheet on the table, while another pair of pipe registers and absorber sheets is being processed in the machine.
"We are proud to have been chosen by such a prestigious company as Velux. This shows us that long-term experience and a good reputation are values manufacturers are still looking for in a supplier," Stefan Brändle, Managing Director of Sunlaser Consulting GmbH, commented. The machine is going to be built in cooperation with Swiss company Minitec.
More information:
http://www.minitec.ch
http://www.sunlaser.ch
http://www.velux.com
http://www.trumpf-laser.com