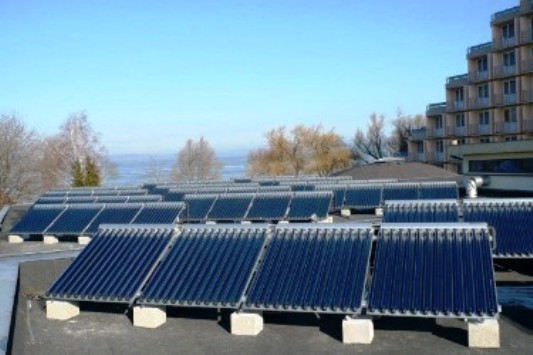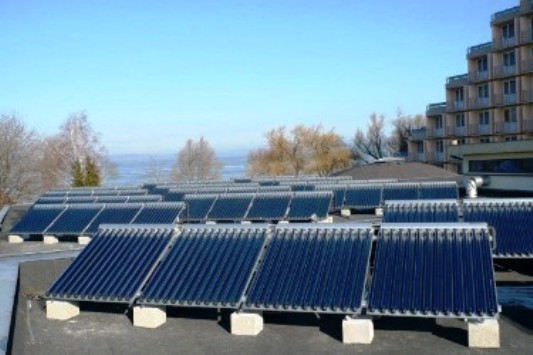 Hungary: Government Strengthens Support for Renewables and Energy Efficiency in Residential Market
While Hungary's plans to add two Russian reactors to the Paks nuclear power station have caused quite the stir, the eastern European country's green energy policies seem to have gone largely unnoticed. On 8 May 2017, during the first Nordic Green Light business forum in Hungary's capital Budapest, László Szabó, Deputy Minister of Foreign Affairs and Trade, said that his country was striving for a more demand-responsive energy infrastructure by utilising locally available renewable sources such as wind, solar, geothermal and biomass. As a first step, it has started to offer zero-interest loans to homeowners for improving building efficiency and installing renewable energy systems. The photo shows a vacuum tube collector installation at the Panorama Hotel in Siófok, a town to the southwest of the Hungarian capital.
Photo: Spring Solar
Renewable sources produced 15 % of the country's energy, said Szabó. This means that Hungary has already met its EU obligation for 2020. But to reach a 50 % share in supply, the government will have to redouble its efforts to promote energy efficiency measures and renewable energy projects. There are quite a few credit lines and incentive schemes in place. The two relevant to solar thermal are the above-mentioned zero-interest loan scheme launched this April and the Otthon Melege (Warm Homes) subsidy scheme to support the replacement of conventional water heating systems.
The budget of the zero-interest programme by the Hungarian Development Bank (MFB) adds up to Hungarian Forint (HUF) 115 billion (around EUR 370 million). The website of MFB stated that people who own their home could receive a minimum of HUF 500,000 (around EUR 1,800), whereas apartment cooperations could get up to HUF 7 million (ca. EUR 25,000) over up to 20 years. The programme offered support for a wide variety of measures, such as solar thermal and PV installations, biomass boilers, heat pumps, improved insulation and lighting retrofits (find more information about the loan scheme in the
database of incentive programmes
).
Experts on solar thermal in Hungary expect that these loan opportunities will be used mainly by younger families, due to the long repayment period of 20 years, and that the budget will not be exhausted as quickly as the one of the subsidy scheme
Otthon Melege
.
Budget spent in a few hours
Germany Trade and Invest (GTAI) has reported that the HUF 5 billion budget allocated to the Otthon Melege scheme had been exhausted within a few hours at the end of August last year. This should come as no surprise considering the attractive conditions of the subsidy scheme, with retrofits of heating installations being incentivised at 40 to 55 % of the investment. Otthon Melege has also been open to applicants who intend to replace refrigerators, freezers or washing machines by more efficient units. GTAI said that the budget had meanwhile been more than doubled to HUF 20.4 billion (around EUR 66 million), available until 2020. The programme is funded through revenues from CO2 emission trading.
Suppliers of solar thermal systems have said that demand for solar water heaters remained rather small in Hungary and that PV was attracting much more business. The European Solar Thermal Industry Federation estimates that around 16,000 m² of collector area were sold across the country in 2015, meaning the market basically remained stable compared to the year prior. More recent data has not been available.
Websites of organisations mentioned in this article:
More information: