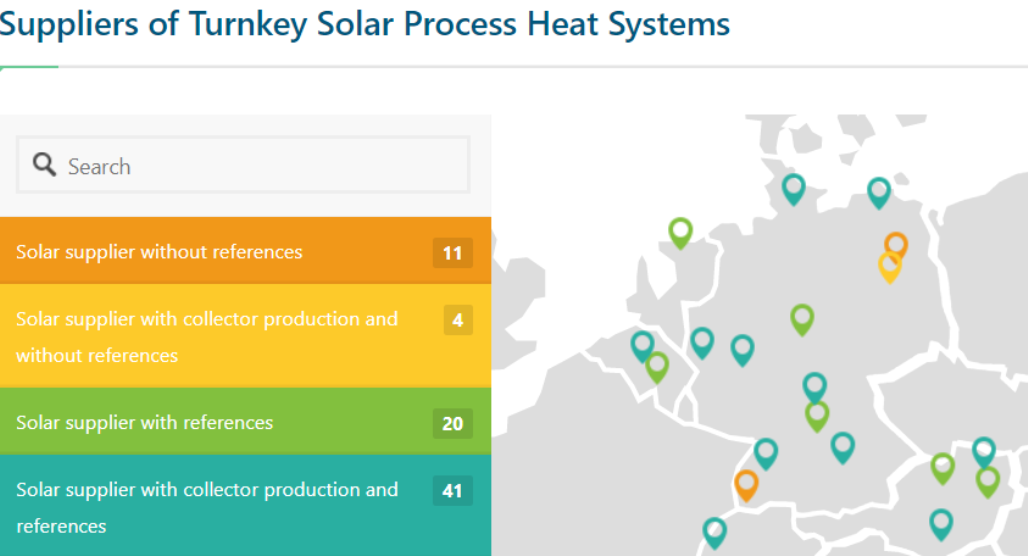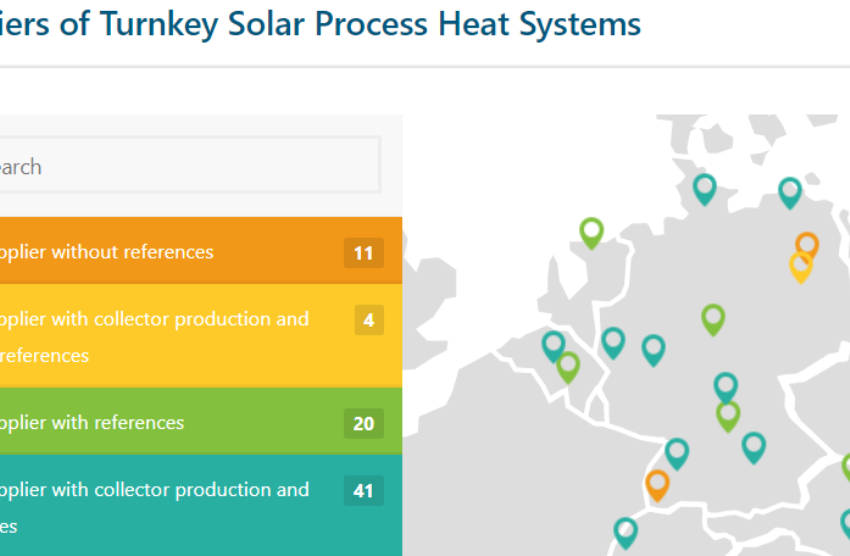 Growing calls for carbon taxes and mandatory quotas
It has been quite difficult to close deals with clients for putting up industrial solar heat (SHIP) systems, as these types of projects take a long time to be developed. Only 27 out of the nearly 80 companies listed on the SHIP Supplier World Map managed to start up at least one SHIP installation in 2019, although countries around the world urgently need strategies for decarbonising industrial heat. Accordingly, a growing number of SHIP technology suppliers have been calling for improvements to policy. When asked about what measures could drive the growth of their solar process heat business, they said governments need to implement carbon taxes or mandatory clean energy quotas. This article is a follow-on to two previous news pieces discussing other aspects of the global SHIP survey carried out in February and March 2020: news 1 and news 2.
Despite having focused on industrial clients for several years, many of the companies listed on the
SHIP Supplier World Map
were able to put up only one solar process plant every two years. Consequently, the overwhelming majority (86 %) were unsatisfied with how business developed in 2019. They said it was difficult to get contracts signed because clients needed a long time for approval. "Every new project is a customer education process and requires an individually tailored solution. There is not enough independent demand pull," said the vice president of a parabolic trough collector manufacturer.
Calls for carbon price grow louder
The open question in this year's survey was to "list two key factors that could speed up your solar process heat business." It was answered by 43 respondents, many of whom proposed the following measures to drive growth in the market:
Carbon taxes to increase the cost of fossil fuel
Mandatory regulations on carbon emissions reductions in industry
Financing schemes that offer grants or low-interest loans
Marketing and promotion focused on industrial customers
These key drivers have already been mentioned in one form or another in earlier surveys of SHIP technology suppliers, as shown in the chart at the bottom of this article. But the calls for introducing a carbon price to make solar heat more competitive have become much louder in recent years, as the cost of fossil fuel remains low. In the current survey, nine companies listed carbon taxes as one of the key factors that could bolster their business.
Higher fossil fuel prices were also the most important criterion for market growth in the SHIP supplier surveys conducted in 2013 and 2016 (see the chart below). But because fossil fuel has remained cheap in recent years, as many as 10 companies called for the implementation of a carbon tax when answering this year's open question. In the MENA region, the removal of fuel subsidies would have the same effect as carbon pricing in Europe.
Mandatory quotas to put on the pressure
The second-largest group after the carbon tax advocates were those nine companies which supported mandatory clean energy targets. While each of them worded it a bit differently, all nine had the same goal, namely to "put on the pressure by introducing sustainable targets for manufacturing businesses." The CEO of a SHIP solutions supplier based in Mexico made clear that the decision-making process could become faster if the industry were obliged to fulfil energy-saving requirements, provided that they are technically feasible. The managing director of a systems provider based in Germany suggested "a solar energy regulation that would stipulate the manufacturing industry to use a certain percentage of clean heat."
The lack of easy-to-access financing opportunities remains a big issue for suppliers of SHIP systems. Solar energy businesses based in Europe and new emerging markets, e.g., Brazil, rather pointed to subsidies and grants as factors that could grow business, while technology providers in established SHIP markets such as Mexico tend to request low-interest loans or tax credits.
In all, the companies offering industrial solar heat solutions believe there is huge potential for the technology in industry. However, business has been slow, as industrial clients are mostly unaware of SHIP. As a result, suppliers have to cope with highly fluctuating demand for their services, which often means gaps of several months with no project to complete and years in between commissioned installations. This, of course, leaves not enough revenue to establish a financially healthy business. Thus, the fear is that some will have to close down if the policy framework does not improve significantly over the short term.
More information: