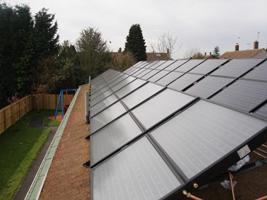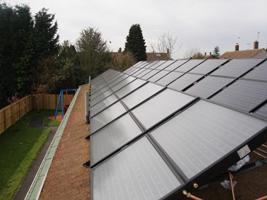 Great Britain: Microgeneration Certification Scheme lists PVT Collectors
Generating heat and electricity: Since May 2010, 48 Volther PVT collectors by Turkish manufacturer Solimpeks have both supplied hot water to a children's home in Surrey County, Great Britain, and fed solar electricity into the local energy grid. According to the manufacturer, the system's payback period is 12 years, thanks to the Feed-in Tariff scheme for solar electricity.
Photo: Solimpeks
The Turkish manufacturer sees great potential for its new product launched in 2010. "This year, we are going to sell around 1,000 PVT collectors. In 2011, we are already aiming at 10,000 units," Kemal Ibis, Communication Director at Solimpeks, announces. So far, the company has installed pilot projects in Turkey and Great Britain, and entered into a distribution agreement with Newform Energy, a British wholesaler, which provides renewable energy solutions to a broad customer base, including public sector bodies, utility companies, large housing developers, hotels, schools, building merchants and architects.
Newform offers both types of Solimpeks PVT collectors. Whereas the Volther PowerTherm collector has been developed to maximise the thermal return of the panel, the Volther PowerVolt collector maximises its electrical return. In both cases, the solar cells are glued to the absorber sheet located inside the collector case. The Surrey County project mentioned above consists of 24 PowerTherm collectors and 24 PowerVolt collectors.
In the middle of September, Newform Energy announced that the PowerTherm and PowerVolt collectors have been included in the British Microgeneration Certification Scheme (MCS). "After many months of effort, we have finally achieved formal acceptance of the product's thermal and electrical benefits," Newform states on its website. The two products have been classified as "Transition Products", and can be found on the Solar PV and Solar Thermal list of approved products. According to Newform Energy, this means prospective customers will profit from both the Feed-in Tariff over the next 25 years, and the Renewable Heat Incentive, as soon as the latter is launched.
More information:
http://www.solimpeks.com
http://www.newformenergy.com/