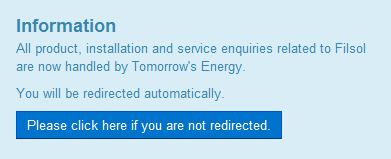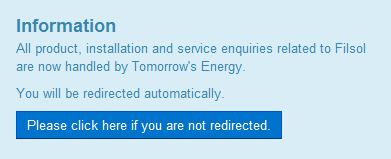 Great Britain: Insolvency of Collector Manufacturer after the PV Crash
Solar thermal companies in the UK are going through a difficult period, with some well-known solar thermal system providers no longer trading. One such company has been Filsol Ltd., a collector manufacturer founded in 1981. Solarthermalworld.org spoke with John Blower, who was the Managing Director of Filsol Limited but is now Managing Director of Mint Renewables. Blower was also a previous chairman of the UK Solar Trade Association (STA). The text above shows up on the former Filsol website pointing out that Tomorrow´s Energy bought some of the Filsol´s assets.
Source: http://www.tomorrowsenergy.co.uk/
Solarthermalworld.org asked about the setting for the difficulties that Filsol faced which caused the company to cease trading. Blower believes that Filsol was the victim of problems with both the UK central Government (based in Westminster) and the Welsh Assembly Government (WAG, based in Cardiff). It was a combination of their policies which "blew Filsol's plans away". He went on to say that "the central Government initiative called the Low Carbon Building Programme was progressing well, but then new replacement initiatives gave a heavy imbalance to PV under the Feed-in Tariffs in April 2010 which left solar thermal largely unsupported for too long". Besides, this was complicated by the WAG's Arbed programme, which means "Save" in Welsh and which was implemented in 2009. This initially promised a great deal of support for renewables by focusing particularly on housing associations. However, after many delays by bureaucrats the 'goalposts' were changed, offering very little for the solar thermal industry. Inevitably, Filsol's interests were forced to diverge into PV as well.
In total there were three aspects which were most responsible for Filsol's demise: firstly, the lack of the Renewable Heat Incentive (RHI) for the domestic market; secondly, the PV Feed-in Tariff; and thirdly, the Welsh Arbed scheme. The combination caused severe difficulties in planning ahead for a small solar thermal manufacturing business, which has the need to order stock well in advance. There was also a necessity to develop a new solar thermal collector, but the market conditions did not allow resources to do so. There were also continual losses while waiting for the WAG Arbed scheme which never fully came to fruition in the way initially promised. It only took the very short notice of a significant reduction in the PV FiT, which was announced at the end of 2011, to finally tip the business over the edge. Effectively this caused a significant cash-flow "crush" due to two years of losses whilst maintaining overheads of rent, rates and factory staff. During late 2011, Blower says, "the supply chain was chaotic", and so it was very difficult to downsize the business in time for the market crash. Blower agrees that with the presence of the FiT many solar thermal companies have needed to diversify their work to survive. In his new business, called Mint Renewables, Blower is already distributing new OEM flat plate panels, including one model with a wooden frame. Also an OEM vacuum tube collector is being offered. Blower is also involved in another business which acts as a warehouse and distribution centre which sells collectors and complete kits for both solar thermal and PV.
Diversification is also the strategy of Tomorrow's Energy Ltd., which recently bought some of the assets of Filsol Ltd. Its Managing Director Vahid Tabatabai told Solarthermalworld.org that Tomorrow's Energy are considering supplying innovative solar thermal products that might include a hybrid of air, PV and heat pump technologies. Tabatabai confirms that the Filsol solar collector, which has been around a long time, will no longer be produced. In the meantime the domestic RHI being placed on hold is a significant problem, and it has been necessary to diversify to survive. This has meant that Tomorrow's Energy has recently been involved with repairing many systems that have been fitted under the current MCS grants. Tabatabai states that "the Microgeneration Certification Scheme (MCS) is almost a joke. Many of the systems may as well have been designed on the back of a fag packet". Some of the technical problems he has found under the MCS scheme include systems suffering from a loss of fluid pressure; those in which the collector is oversized; and those where the expansion vessel is undersized and often in the wrong place. He feels that another problem with the way in which the UK Government has handled the industry changes has been the push to promote equipment which is of a lower price. However, he feels that this will compound existing problems by encouraging Asian imports.
More information:
http://www.tomorrowsenergy.co.uk/
http://www.mintrenewables.co.uk