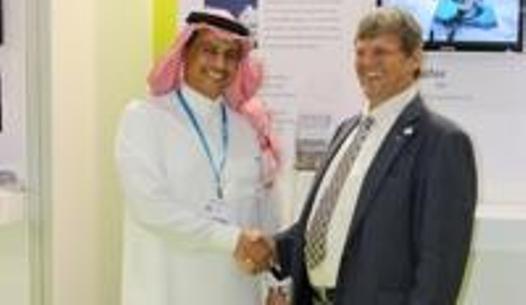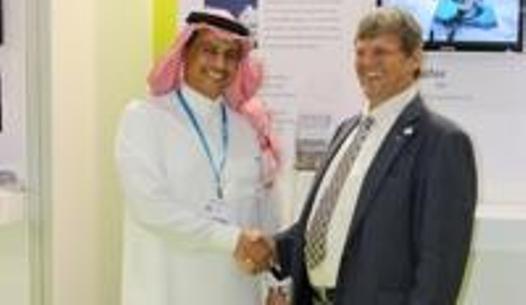 Germany/Saudi Arabia: Fraunhofer ISE and KA CARE Sign Collaboration Framework Agreement
King Abdullah City for Atomic and Renewable Energy, KA CARE, located in Riyadh, Saudi Arabia, and the Fraunhofer Institute for Solar Energy Systems, Fraunhofer ISE, based in Freiburg, Germany, have jointly announced the signing of a Collaboration Framework Agreement, which will serve as a basis for various collaborations between the two organisations over the next years. According to a press release by Fraunhofer ISE, the joint projects will include renewable energy research and development, as well as testing and training. The photo shows Dr Mahar Alodan, KA CARE, (left) and Prof Dr Eicke R Weber, Director of Fraunhofer ISE, during the signing ceremony, which took place in Abu Dhabi, UAE, at the World Future Energy Summit's German Pavilion on 20 January 2014.
Photo: Fraunhofer ISE
KA CARE and Fraunhofer ISE have both shown an interest in developing, supporting and implementing renewable energy technology projects locally, regionally and around the globe. The strategic collaboration is thought to provide both organisations with increased research capabilities, human capacity and state-of-the art solutions to engineering challenges unique to the region of Saudi Arabia. KA CARE was founded in April 2010 in response to a royal mandate, which stipulated the development of renewable and nuclear energy due to the Kingdom's rapidly growing demand for electricity and water desalination.
"We greatly value the opportunity to work closely with a renowned and respected organisation, such as Fraunhofer ISE," His Excellency Dr Khalid Al-Sulaiman, KA CARE's Vice President for Renewable Energy, said. Weber added: "Fraunhofer ISE is looking forward to working with KA CARE to develop solar energy capabilities for the very promising market of Saudi Arabia and for the MENA region."
According to the press release, research and development will encompass a wide range of topics: solar thermal technology, photovoltaic technology, energy storage, grid integration and design, water desalination, energy-efficient solar and renewable cooling, as well as efficient building design. Major emphasis will also be placed on standardised performance and reliability tests and certification.
Fraunhofer ISE receives Zayed Future Energy Prize
One the same day, Weber had still another reason for celebration: On behalf of Fraunhofer ISE, he received the Zayed Future Energy Prize 2014, with prize money of USD 1.5 million. From the three finalists, Fraunhofer ISE was selected as the winner in the category Non-Governmental Organisation (NGO). The Fraunhofer ISE was founded over thirty years ago and has become Europe's largest solar energy institute, with more than 1,200 staff. The candidates were selected based on their influence on industrial, social or environmental changes, as well as their position in the field. Other criteria included an organisation's long-term vision and innovation potential.
The prize is awarded once a year to enterprises, NGOs and educational institutions from around the world, as well as to selected persons for their lifetime achievements. Fraunhofer ISE was one of three finalists in the NGO category. Also nominated were British organisation Practical Action and the World Resources Institute (WRI), USA.
More information: