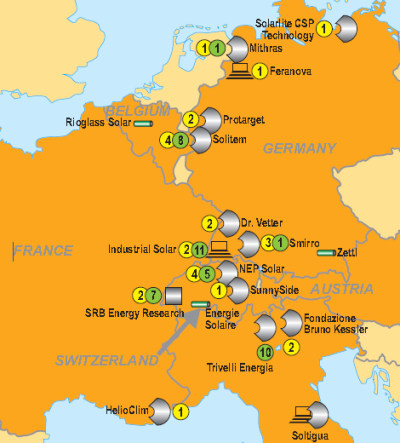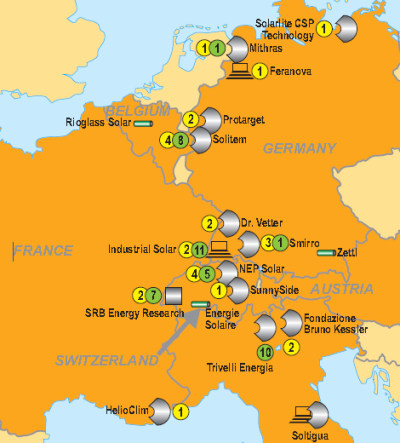 Germany: World Map of Solar Process Heat Collector Industry 2014
There is enormous demand for industrial heat in the temperature range between 100 and 250 °C all around the world, and solar thermal technologies are said to play an important role in covering this demand over the next decades. A joint project by magazine Sun & Wind Energy and German agency solrico was to find out which companies offer solar process heat collectors, what technology they focus on and how many commercial projects they have already realised. The results of the global survey now make up the first World Map of the Solar Process Heat Collector Industry, which was published in the March edition of Sun & Wind Energy and is also available for download on solrico´s website. 
Source: Sun & Wind Energy / solrico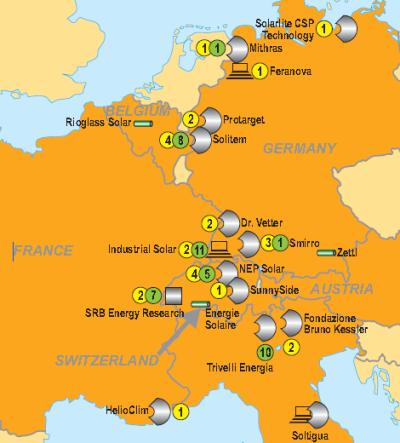 The world map incorporates 36 manufacturers from ten different countries – the majority of them collector manufacturers for concentrating process heat: 19 parabolic trough, 9 dishes and 4 Fresnel collector manufacturers. One company supplies ultra-high evacuated flat plate collectors with a parabolic mirror at the back, and three suppliers of receivers or receiver tubes participated in the study. The survey did not include companies which exclusively deal in CSP plants, even if their parabolic trough collectors met the requirements. Suppliers of collectors with compound parabolic concentrators (CPCs) were not included either, as they have a lower concentrating factor and, usually, no tracking unit.
What's special about the world map is its listing: A company's rank is based on its technology's stage of development. Companies with a prototype collector or receiver are in red. The number in the yellow circle next to a manufacturer`s name shows the number of pilot / demonstration projects which were implemented by using the company´s product. A green circle next to the company's name denotes the number of commercial projects realised with a particular collector type.
| | | | |
| --- | --- | --- | --- |
| Company | Country | Technology | No. of commercial process heat plants |
| Taylormade Solar Solutions | India | dish | 26 |
| Sharada Inventions | India | dish | 25 |
| Industrial Solar | Germany | Fresnel | 11 |
| Megawatt Solutions | India | dish | 11 |
| Trivelli Energia | Italy | PTC | 10 |
| Clique Developments | India | dish | 10 |
| Solitem | Germany | PTC | 8 |
| SRB Energy Research | Switzerland | other | 7 |
| NEP Solar | Switzerland | PTC | 5 |
| Chromasun | USA | Fresnel | 3 |
Top ten companies based on the number of commercial plants
Source: Sun & Wind Energy / solrico
"Among the ten companies with the most installed commercial systems on the world map, there are four suppliers of dish systems from India," Eva Augsten, Project Leader for the world map and a freelance journalist specialising in renewable energies, explains. Indian manufacturer Thermax would have also been part of the top ten list (see the table above), but withdrew his world map registration. Sopogy, USA, would also be expected to rank among the top ten, but did not participate in the survey.
"Confirming the number of commercial projects was one of the most delicate research issues," Augsten says. "We asked the manufacturers to count only fully implemented process heat installations, such as in the food industry." Other systems included in the survey were commercial projects which use hot water for hotel laundries or hospitals, the large community kitchen systems predominating in India, thermal see water desalination, as well as combined systems for heat, cooling and electricity for own demand. "In some cases, we even checked the company's reference list to look for any inconsistencies," Augsten adds. The journalist emphasises that the first world map is more a "snapshot" of the industry. "The map will certainly become more informative each time the survey is repeated."
More information:
http://www.sunwindenergy.com
: The world map, together with a 7-page article titled The World of Process Heat, was published in the March edition of Sun & Wind Energy.