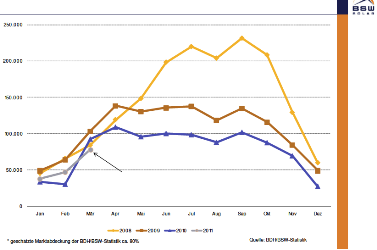 BDH/BSI statistics
Germany: Uncertain Market Development in 2011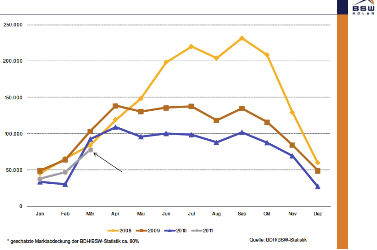 Signs of a recovering market are hard to come by when looking at the official German market statistics: The figures of the solar industry association BSW Solar and the heating industry association BDH (BDH/BSI statistics) show only a very small increase of 4.3 % during the first three months of the year, compared to 2010 which was a weak year. The chart, which was part of a presentation by the Managing Director of BSW-Solar during the German conference "Symposium Solar Energy" in the middle of May, shows the collector area that is sold each month on the German market. Its figures are based on an anonymous, monthly survey verified by a notary. The grey line represents the start of this year, with a sold area of 162,900 m2 of collector area in three months.
Figure: BSW-Solar
But there are also more apparent signs which indicate that there is again a stronger demand on the national solar thermal market: Carsten Körnig was able to present a clear upward trend in the quarterly German Business Index "Solar Heat", which is based on responses from 100 system suppliers and installers. After the index fell to its so far lowest level in the third quarter of 2010, it is now on the rise again.
Clearly positive news could also be reported from the German internet portal Quotatis.de, which acquaints installers with clients. "According to our figures, the monthly demand for solar thermal systems tripled in April compared to the same period in 2010," Jens Oenicke, General Manager of Quotatis, states. In February and March, the website registered twice as much requests for solar heating systems than in the same period the previous year. Quotatis has 100,000 registered users, and 10,000 installers and service providers who use the website for the acquisition of new costumers.
In addition, high energy prices coupled with an increased level of subsidies granted by the national programme MAP will most probably increase the number of buildings to be retrofitted by German construction companies. This is also the clear aim of the new Alliance for Building Efficiency, which was founded by the German Energy Agency (DENA) and presented its first position paper in early May 2011. The broad coalition of construction industry companies and trade associations will work towards increasing the number of retrofitted buildings from 1 to 2%.
And last but not least: The Renewable Heating Law (EEWärmeG) has been extended since the first of May. From this date on, public buildings which are retrofitted have to fulfil the German renewable heating obligation that has been in place since 2009. Until now, the law has only been eligible for newly built private and commercial, as well as public buildings. If solar thermal energy is used, at least 15% of the total heating demand must be supplied by sun heat.

Information about the newly founded Alliance for Building Efficiency
 
Download the modified Renewable Heating Law
 
BSW Solar: http://www.solarwirtschaft.de
BDH: http://www.bdh-koeln.de