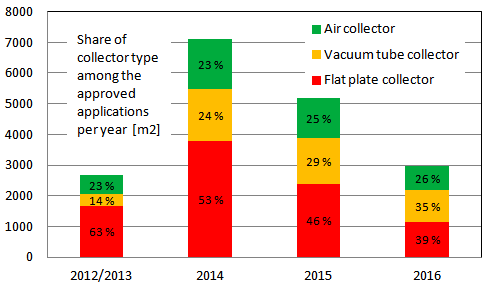 Germany: Process Heat Supply from Vacuum Tubes and Air Collectors on the Rise
There is a distinct difference between the make-up of the German solar process heat segment and the country's solar thermal market in general and it concerns the type of collectors used. One in four collectors used in solar process heat systems is an air collector, although the technology contributes only around 10 % to the total collector area newly installed each year. The same has been true for vacuum tube systems, which showed a 35 % share in solar process heat installations among approved projects in 2016 – despite an overall market share of only 9 % last year. All figures are based on statistics provided by the University of Kassel's Institute of Thermal Engineering, which has been in charge of the research accompanying the subsidy scheme on solar process heat under the auspices of Germany's Market Rebate Programme for Renewable Energies or MAP.
Chart: solrico, source: Institute of Thermal Engineering, University of Kassel
MAP support for process heat began five years ago with the launch of a scheme that has been granting the same incentive amount regardless of the type of collector (flat plate, vacuum tube or air) being installed. Currently, there is no cap on the collector field size and subsidy amount. The scheme allows investors to choose among three different models. They can ask for a low-interest loan from the German KfW bank, which will be combined with a non-repayable grant of 50 % on the net investment. End customers with the financial means available can also apply directly for a 50 % subsidy of the eligible net investment at the Federal Office for Economic Affairs and Export Control, BAFA. And third option is to request a
performance-based incentive
, which will take into account the annual yield shown on the corresponding Solar Keymark certificate. If the latter model is more beneficial than the 50 % rule, BAFA will recommend it to the applicant.
Despite the high subsidy amount, the collector area of approved applications had decreased since the peak year of 2014, mostly because of low oil and gas prices over the last years, said Reiner Warsinski from BAFA. Germany also had few solar process heat planners available to promote the programme among manufacturing businesses.
The biggest two new KfW-supported projects from 2016 were a Ritter XL system with 600 m² of vacuum tube collectors and CPCs (compound parabolic concentrators) for a car wash and a 420 m² flat plate collector installation for a
gas pressure regulating system
. The latter was planned and set up based on a turnkey delivery contract by German Enertracting. The solar-powered car wash has already been the fifth of its kind installed on behalf of the Mr Wash chain. "Our solar-powered car washes are very cost-effective thanks to the water-based AquaSystem technology developed in-house," explained Dr Rolf Meißner, Managing Director of Ritter XL.
A recently published ranking based on the survey results of the
World Map of Solar Process Heat Specialists 2017
places his company among the largest turnkey solar process heat planners from around the globe. Ritter XL has completed 29 turnkey solar process heat installations and is the only German business in a list dominated by Mexican and Indian system suppliers. For more information about the world map survey, please see the attached brochure Solar Heat for Industry.
Largest turnkey SHIP suppliers based on no. of reference projects
The largest new installation supported by BAFA subsidies was a 360 m² air collector system by German collector manufacturer Grammer Solar. It provides the heat required for drying hay on an eco-friendly cattle farm in Hohenwarth, southern Germany (see the photo below). Air volume is at 10,000 to 35,000 m³ per hour, and the system is backed up by a wood-chip boiler.
360 m² of glazed air collectors for drying hay at an eco-farm in southern Germany
Photo: Grammer
"Since MAP's solar process heat subsidy scheme – including support for air drying – was launched in 2012, we have realised several solar projects for drying agricultural products, for example, hay and or wood chips," confirmed Rudolf Ettl, who heads the solar air heating division of Grammer. The advantage of air heating systems is their simplicity compared to water-driven collector fields, as they do not require tanks, expansion vessels or pumps, only fans. "The growth in demand has helped reduce system costs," said Ettl. Whereas specific system costs were still at 600 EUR/m²a at the start of the subsidy scheme, Grammer is now at around 450 EUR/m². Ettl, however, pointed out that the low oil price had created a difficult sales environment during the last two years.
Websites of organisations mentioned in this article: