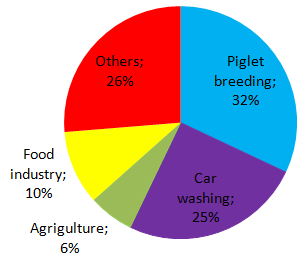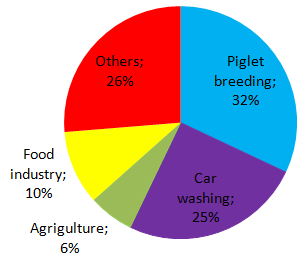 Germany: 174 Solar Process Heat Applications in 2.5 Years
Over the last two and a half years, the German Market Rebate Programme for Renewable Energies, MAP, has been subsidising half of the net costs associated with solar process heat for industrial and commercial use in Germany. All in all, the administrator of the programme, the Federal Office for Economic Affairs and Export Control, BAFA, has received applications for 174 systems, of which 88 have so far been set up by the applicant and subsidised by the programme. "The programme started off well, but now the number of applications is stagnating," Ralph Baller, Head of the MAP division, says. The University of Kassel's additional publicity measures, which address planners and installers alike, are hoped to increase the popularity of the subsidy scheme again. The pie chart shows the customer groups of solar process heat among the 174 applications which have been submitted since the programme was launched in August 2012.
Source: BAFA
"We have had twice as many requests as applications, so every second project by a potential client has not been realised," Baller explains. Project funding may also be delayed considerably, as applicants have up to nine months to finish the installation after receiving approval of their application. It explains the gap between the number of submitted applications and the number of approved and funded projects in the following table.

| | | | | |
| --- | --- | --- | --- | --- |
| Year | 2012 | 2013 | 2014 | Total |
| Number of applications submitted | 18 | 70 | 86 | 174 |
| Number of projects funded | 0 | 25 | 63 | 88 |
| Total collector area of approved and subsidised applications | | 887 m² | 2,996 m² | 3,883 m² |
| Average collector area per approved application | | 35 m² | 48 m² | 44 m² |
Process heat statistics for MAP subsidy scheme period between August 2012 and the end of December 2014. So far, the scheme has only subsidised one project with an ESCO model. Applications for five more ESCO projects have been submitted.
Source: BAFA
The highest share among the submitted applications is made up of systems for piglet breeding (56 systems). These projects mostly use solar energy for the stable's floor radiator heating, which is not a very specific solar process heat installation. Car washing accounts for a quarter of all submissions and another quarter covers a very broad range of applications. Flat plate collectors are the dominating technology (see the table at the bottom), although vacuum tube collectors show, on average, almost double as much collector area as the flat plate systems.

Number of submitted

applications

Total collector

area

Average collector

area per application

Flat plate collectors

130

6,568 m²

51 m²

Vacuum tube collectors, including the 300 m² plant

31

2,818 m²

91 m²

Air collectors

13

892 m²

69 m²

Total

174

10,278 m²

59 m²
Collector technology shares among the 174 projects submitted
Source: BAFA
The University of Kassel carries out the research accompanying the MAP process heat subsidy scheme. "At the request of BAFA, we examine the applications' technical and design aspects and give advice to planners if there is potential for optimization," Bastian Schmitt, Head of the process heat working group at University of Kassel, explains. "We have noticed that there is a high number of small planning and installation companies which submit applications for their customers, and they are mostly not experienced in designing solar process heat systems." Only round about 10 % of the applications are handed in by specialised solar thermal system integrators.
Workshop series for planners and installers
The lack of specialisation has led the University of Kassel to plan a series of workshops in cooperation with the local chamber of industry and commerce. "Between April and May, we will offer afternoon seminars over two-and-a-half hours in Pforzheim, Gera, Neuenstadt am Kocher, Bielefeld, Dessau and Hamburg. There, we will show examples of installations, speak about technical requirements and the economics of solar process heat," Schmitt says. To raise awareness about the industry among potential clients, BAFA also commissioned the production of a film entitled "Manufacturing with the Sun". It showcases three successful solar process heat installations and explains the advantages of the technology. The film can be viewed on
YouTube
and was advertised on Twitter.
More information: