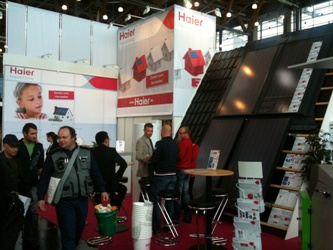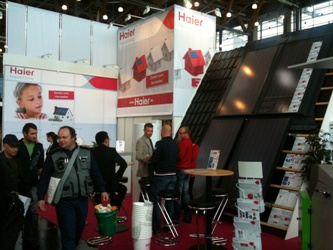 Germany: Haier's Loss Leader Strategy
Internationally operating Haier Group, the world's fourth largest appliance manufacturer, has caused quite a stir prior to the IFH/Intherm (Trade Fair for Sanitation, Heating, Air Conditioning, Renewable Energies ), which took place in Nuremberg, Germany, at the beginning of April. The fax that the Chinese group's German sales office, Haier Deutschland GmbH, had sent to plumbers and distributors in Southern Germany showed a bargain price of 666 Euros for an entire solar thermal hot water system.
Photo: Matthias Hüttmann
The company's offer: a hot water system consisting of two flat plate collectors with a total area of 4.1 m², an enamelled 300 litre storage tank, a roof mounting system, collector connections, 15 metres of pre-insulated twin tubes, a solar expansion vessel and a solar pump, including control and solar fluid (concentrate).
However, anyone looking for this bargain at the Haier Deutschland GmbH fair stand in Nuremberg (see photo above) had to leave empty-handed: Even before the fair started, the website showed that the product had already been sold out. Albert Looschen, Key Account Manager Solar Water Heater at Haier Deutschland, acknowledges that the 666 Euro package had only been a short-lived bargain to attract new customers. The current reseller price list at the trade fair stand showed the warm water package for 2,178 Euros – a price quite comparable to offers by European companies.
Still, Looschen seemed satisfied with the great interest that his company's loss leader had sparked. The fair stand turned out to be very popular among visitors. Also, people did not have to leave the trade fair as empty-handed as they had first thought: For example, the company offered a free 42" LCD TV to every end consumer who bought a heating support package.
According to Looschen, the flat plate collectors are manufactured in China, whereas the other solar set components are bought from German companies. Haier sells directly to plumbers. "We don't believe it is necessary to bring wholesalers into the picture. They only drive up prices," Looschen explains the company's sales strategy. It will be interesting to see what other surprises Haier will have for the German thermal market.
The Haier Group operates in 165 countries around the globe and employs more than 60,000 people. It offers a wide range of products, from appliances and TV screens to air conditioners, DVD players and mobile phones. In 2007, Haier opened its first collector manufacturing site in China and has since been offering its own vacuum tube and flat plate collectors. Today, the company is among the 10 best known solar brands in China, according to market analyses by the Sun`s Vision (see http://www.solarthermalworld.org/node/3372).
This text was written by Matthias Hüttmann, a freelance journalist specialised in renewable energies and based in Puschendorf, Germany.
More information:
http://www.haiereurope.com