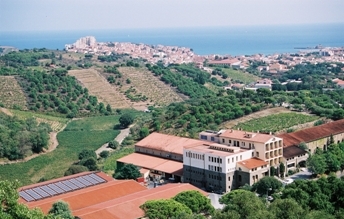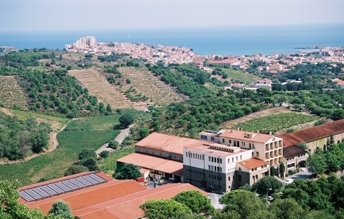 Vinery in Banyuls
France: Support Scheme for up to 30 Solar Heating and Cooling Systems
One of the successful show cases of solar cooling applications in France: The vinery in Banyuls, in the south of France, where 130 m2 of vacuum tube collectors supply an absorption chiller with 52 kW cooling capacity since 1991.
Photo: Tecsol
Daniel Mugnier from Tecsol was satisfied when French solar industry association Enerplan and the French Environment & Energy Management Agency Ademe jointly announced the beginning of the French Solar Heating and Cooling Development Programme in January this year. For the last years, the engineering company Tecsol had been after a support scheme for solar cooling applications. It was first promised to the engineers that Fonds Chaleur would support this kind of technology, a grant scheme for renewable heating systems launched in December of 2008. The final regulations, however, did not include solar cooling as an eligible technology.
After one year of intense consultation and planning, Mugnier is now satisfied with the new scheme supporting 15 to 30 large solar heating and cooling systems during the next two and a half years. "In close cooperation within the Emergence working group and with international experts of Task 38, we developed a very promising method of how to select well-performing demo installations," Mugnier explains in the attached presentation designed for European level dissemination and with the support of EU R&D programs, such as SOLAIR. Task 38 is part of the Solar Heating and Cooling Programme (SHC) by the International Energy Agency (IEA). Members of the Emergence working group were, among others, the French utilities EDF and GDF, Enerplan, the National Institute for Solar Energy (Ines) and Ademe.
In his statement, Mugnier refers to a newly developed check-list including 20 questions and a scoring method, which is thought to give a clear picture of whether the project may be realistic and has a chance of success. "Since the beginning of 2009, we adjusted the questions, weighted the answers and therewith extracted warning messages about non-realistic projects," the Tecsol employee explains. You can order the English version of the check-list at: romain@tecsol.fr.
A score above 10 points means the project will be approved for the support scheme's feasibility studies and may receive grants throughout all phases of planning and realization (if confirmed at the feasibility stage), as well as for the initial investment costs and the monitoring system.
Approval of the first projects is expected for June 2010.
More information:
Tecsol SA
Mr Romain SIRÉ
+33 (4) 68 68 16 40
romain@tecsol.fr

Country / region

France

Name of programme

French Solar Heating and Cooling Development Programme

Type of incentive

Grants

Eligible technologies

Solar Heating and Cooling Demonstration Systems with a nominal solar cooling power between 5 and 200 kW

Applicable sectors

Priority target group:

Tertiary buildings
Large buildings
Industry
Agriculture and food processing

Maximum incentive for the feasibility study

50 to 70 % of the fees for the feasibility study – depending on the region concerned (maximum rate is decided for each case separately).
A check list containing 20 questions of the project's features is handed out prior to the feasibility study (minimum score has to be reached)

Maximum incentive for the investment costs of the system

The investment incentives are paid for 50% at the beginning of the project, 30% are paid at the commissioning of the installation and 20% after 2 years monitoring.

The last payment will be delivered if the installation has reached the minimum monitored energy requirements listed below.

The total amount of incentive is a percentage of the system investment cost to be calculated case by case and it is limited by European maximum grant levels for renewable energy demo projects, which depend on the target group:

Large companies: 60 %
Small and Medium enterprises (SEM): 70 %
Public structures and very small enterprises: 80 %

Maximum incentive for monitoring

50 % of monitoring material is covered, albeit only up to EUR 10,000

50 % of the monitoring work in the first two years in covered, albeit only up to EUR 15,000

Requirements for system

The minimum of usable energy output (all over in France) is to be 350 kWh/m2 and year, including:
Heating: useable kWh from the storage tank and without back up
Cooling: useable cooling kWh produced by evaporator, divided by a ratio of 0.6 for absorption chillers and 0.4 for adsorption chillers. Possibility to extend to double sorption chillers with value of 1.
Minimum electric annual efficiency : 5
Calculated value of efficiency during an entire year of monitoring and equal to the ratio between useable heating and cooling kWh (see above) and the overall electric consumption per year by auxiliaries used in the solar system (except distribution pump and back up).

Requirements for installation

Engineering company: a minimum of 2 references related to large solar thermal installations of more than 30 m², as well as a French OPQIBI certification

Finance provider

Ademe, in cooperation with the regional administrations

Total funds

Granted for 15 to 20 installations during a 4-year period: 3 to 5 systems in 2010 and 3 to 5 to 10 in each 2011, 2012 and 2013

Funding source

Public funds

Effective date

January 2010 (after 12 months of preparation)

Expiration date

December 2013

Website

http://www.solaire-collectif.fr/index.php?pid=7
(only a French version is available at the moment)

Last review of this tabloid

February 2013

Contact

Enerplan
Philippe Gay
philippe.gay@enerplan.asso.fr
http://www.enerplan.asso.fr
http://www.solaire-collectif.fr