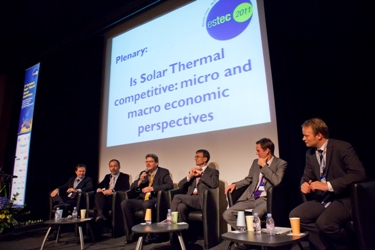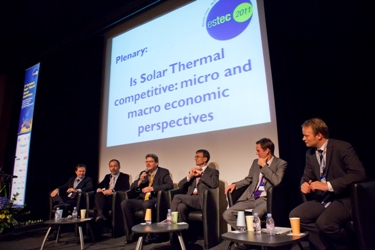 Estec 2011: "We need incentive tariffs for solar thermal"
The crisis in the European key countries was present during the entire 5th European Solar Thermal Energy Conference (ESTEC) in Marseilles on 20 and 21 October 2011. Around 300 speakers and participants tried to deliver new ideas and concepts to get the industry back on track. At the second conference day, "plug and flow", "solar active houses", "fixed prices for end consumers" and "solar incentive tariffs" were among the key issues of a round-table discussion, which was moderated by Uwe Trenkner, a consultant based in Brussels (third from left).
Photo: ESTIF/ Joël Assuied
"The PV market has exploded because of the feed-in-tariffs," stated Harald Drück (fourth from left), Head of the Research and Testing Centre for Thermal Solar Systems (TZS) at the ITW, University of Stuttgart, Germany. "We need an incentive tariff to bill the generated energy. Then we have a chance to earn money with solar thermal."
Afterwards, Werner Weiss (second from left), Managing Director of Austrian research institute AEE INTEC, presented a calculation model to determine the cost per kilowatt hour of solar heat based on the solar fraction of the hot water and heating demand (see figure below; Source: AEE Intec / Werner Weiss).
According to Weiss, the difference to gas prices is between 0.06 and 0.08 EUR/kWhth at a solar fraction of 15%, and between 0.15 and 0.2 EUR/ kWhth at a solar fraction of 60%. The new model could be financed by a levy on oil and gas bills. "By introducing solar incentive tariffs solar thermal would be bankable," stated Weiss. "The industry has to list costs and guarantee output."
However, the challenge is not only how to trace costs, but also how to reduce them significantly. "The reduction of system costs has slowed down over the last years," analysed Drück. Whereas PV system prices amounted to 18% compared to 1984, a solar thermal plant stagnated at 45%. "PV heat – in other words PV combined with a heat pump – will be cheaper than solar thermal if the trend goes on like this," the ITW researcher estimates.
According to Drück, the R&D departments of the component manufacturers are pressured into dealing with new and cheaper technologies and materials. Further savings potential in the field of heat storage could be tapped by the series production of simplified solar tank models. Drück also targeted the installation costs. For example, in Germany installation currently made up 30% of the system costs for the final end user. "To save costs in this area, we need to think about new distribution chains," the ITW scientist sees as a consequence.
Besides the need to reduce costs, Drück emphasised the still insufficient public awareness of solar energy and the strong focus on the sector of single-family homes. "I think that solar thermal is com-petitive," Drück concluded, "but we need incentive tariffs and good lobbying for solar active houses. We also need to improve our marketing. We must make clear how much less expensive storage options for solar heat are in comparison to PV electricity, and present solar thermal products as high-tech equipment."
However, not all panellists attested to the industry's competitiveness. "I can't agree with the state-ment that solar thermal is competitive," said Paolo Frankl (first from left), Head of the Renewable Energy Division at the International Energy Agency (IEA). "If so, we wouldn't need incentives. A technology isn't stimulated by incentive programmes alone. Policy frame conditions and communication have to match as well," Frankl summed up his clear-cut opinion on renewable obligations. "I think that technology-neutral obligations are wrong at an early stage of market penetration and technology development". Identifying only the other renewable energy sources as competitors would leave out a main competitor of solar thermal: natural gas.
ESTEC 2011 was organised by the European Solar Thermal Industry Federation (ESTIF) and the French Association Professionelle de l'Energie Solaire (ENERPLAN), the latter supported by the French Environment and Energy Management Agency (ADEME).