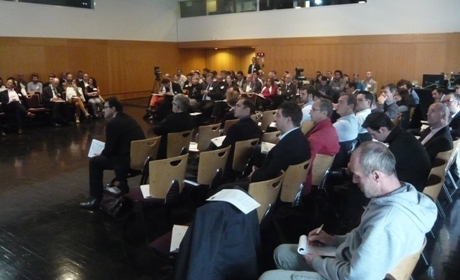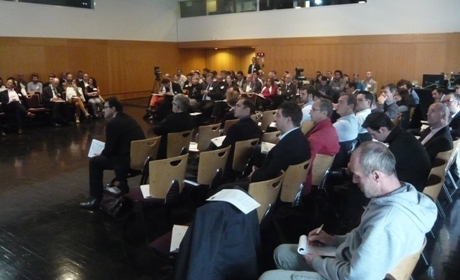 France: Industry Does Not Yet Surrender
The one-day workshop of the French solar sector to discuss the General State of Solar Heat in 2015 (États Généraux de la Chaleur Solaire 2015) took place in Nantes on 20 October with around 130 participants. The market is still decreasing, but the industry is closing its ranks to get out of the difficult situation. Multi-family housing and large-scale solar fields could give solar a second chance – that's at least what the French solar sector has been betting on. The workshop was organised by Enerplan, the Union of Professionals in Solar Energy, and supported by the French energy agency Ademe, as well as French gas supplier GrDF, a subsidiary of French utility Engie, formerly GDF Suez. 
Photo: Enerplan
"We have no choice other than to relaunch our sector, because the energy transition will need all renewable energies to succeed," Anne-Sophie Seguis, Head of Energy Efficiency at GrDF, emphasised during a panel discussion. Positive thoughts might be the right medicine for the industry to keep confidence in a brighter future. French market figures are still quite depressing: The drop in numbers continued in 2014, with the market decreasing by 21 % to 150,500 m² (105 MWth) compared to the previous year. The residential market has been on the decline since 2008, and the situation has been the same for multi-family buildings since 2012.
According to Enerplan´s Vice President, François Gibert, the current year doesn't show any signs of recovery in both segments. Still, the participants of the strategy workshop didn't spent much time on complaints, but rather focused on finding ways to win back customers by concentrating on the big three factors: competitiveness, innovation and, most of all, communication.
In 2009, Enerplan launched a recovery plan for the multi-family building segment, called
SOCOL
or Solaire Collectif, which has been supported by Ademe and GrDF since 2013. According to Enerplan, system prices went down from 2,000 EUR/kW in 2009 to between 1,000 and 1,500 EUR/kW today, and the sector is aiming at less than 1,000 EUR/kW over the next years: "We know how to produce competitive solar heat," stressed Richard Loyen, Secretary General of Enerplan. "We created a library of selected hydraulic schemes that work for sure, we simplified performance monitoring and trained project managers and installers. We are now disseminating the tools which we have been working on within SOCOL for years."
Tender invitations for large commercial plants
The strategy seems to pay off: The SOCOL network had only 800 members at the end of 2014, but doubled its membership over a few months' time. In October, the network boasted more than 1,500 members: solar professionals, project owners, technical engineering offices, researchers, public authorities, etc. The next step is to convince customers, aiming at larger systems. Since 2014 SOCOL members have organised information days on solar technology across several parts of the country. They focus on segments like multi-family houses, for which solar heating and cooling can be competitive considering public subsidies, but also on segments currently in their infancy, such as solar district heating or process heat.
In March 2015, the French Union for Social Housing (l'Union sociale pour l'habitat) provided its members with an edited handbook on solar energy in said buildings, entitled Guide Installation solaire thermique dans le logement social. During the same month, Ademe published a call for proposals regarding "large solar array projects" of more than 300 m² at multi-family buildings, industry premises and hospitals, as well as more than 500 m² of district heating. The first application period ended on 25 June 2015 and the second one already started with a deadline in April 2016.
Local action plans
Some regions and communities are committed to the promotion of solar heat. For instance, the Bretagne region initiated a regional action plan to ensure that solar projects perform as expected and customers get the info they need. The region wants to produce 73 to 140 GWh of solar heat in 2020, up from 16 GWh in 2013 (see attached document). Another example can be found in the south of France, where the 100 % RES Community of Valence-Romans (21 localities with more than 53,200 inhabitants), adopted such an action plan in May 2015, which is said to start next year. The first step was the signing of a charter of quality and commitment by solar thermal stakeholders from across the region (document also attached).
Last but not least, the industry's professionals are trying to push the market forward as well. Across Pays de la Loire, they founded a new organisation, Atlansun, in 2012. Supported by Ademe and the regional council, Atlansun now consists of more than 70 firms, from small-sized enterprises to big companies like Cofely GDF Suez. Its purpose is to federate the solar branch at local level, starting with the western part of France, and to send a positive message by highlighting solar installations which work perfectly. The solar sector, the regional councils and Ademe's regional offices have all played their part – next year, market statistics will show whether they did it well enough.
More information:
The presentations of the workshop in French are available for
download
Vincent Boulanger is a freelance journalist specialised in renewable energies and based in Hamburg, Germany.