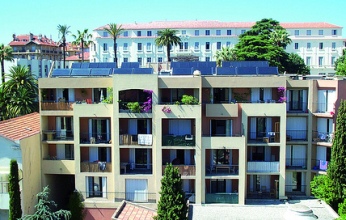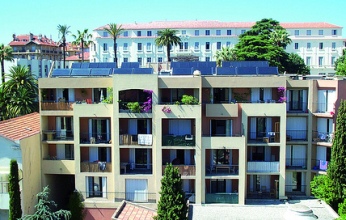 France: Dissatisfying Market Development in 2009
Collective systems are on the rise in France: This photo shows the youth hostel of the Association Logis des Jeunes de Provence in the city of Cannes in the South of France. Photo: Enerplan
The 265,000 m2 of newly installed collector area last year translated into a 15 % decrease in sales on the solar market of Metropolitan France. The negative development is caused by a slump in the residential sector. A market survey by the French Solar Energy Association Enerplan among major market players found that the number of combi solar systems for hot water and space heating of residential homes was 56 % above the number in 2008. The segment of purely hot water systems, however, declined by 14 %. The factors Enerplan stated in a press release from early February as being responsible for such a big slump in the residential sector are, "The economic crisis, the decline of fossil fuel prices and the dominance of photovoltaic".

Market development of Metropolitan France since 2007, based on a survey carried out by Enerplan. The survey does not consider French overseas departments, in which market volume was considered to be around 75,000 m2 in recent years.
Source: Enerplan

The figure above shows how the three different application sectors have developed in France over the last three years. Collective systems are constantly on the rise: In 2009, 19 % more collector area was installed in this segment than in 2008. "Fonds Chaleur" (Heat Fund) supports such growth, providing financial support for the installation of more large-scale solar thermal systems in older buildings, hotels, campsites, hospitals and military barracks. It was implemented at the beginning of 2009 and subsidizes 70 to 80 % of the preparatory study costs, as well as 70 to 80 % of the investment costs of new systems, with subsidy funds being divided between the government and the single regions. Surprisingly, the collective sector had already grown more in 2008 (29 %), although Fonds Chaleur had not even been implemented back then.
To bring France back on track again, the industry association is going to start a marketing campaign in cooperation with the installers network Qualisol and the National Agency Ademe. "It is urgent to include solar thermal technology in the investment decisions of home owners and home builders," Enerplan states in the above mentioned press release. "The technology is mature and the industry qualified".
More information:
Ademe: http://www.ademe.fr
Enerplan: http://www.enerplan.asso.fr/
Socol: http://www.solaire-collectif.fr