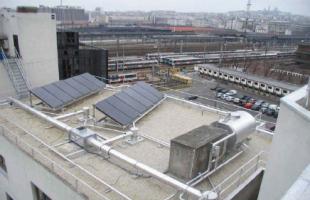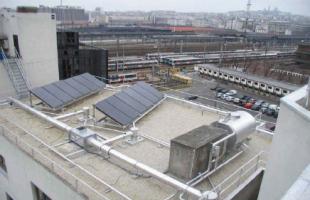 collective system in Paris
Collective Systems on the Rise in France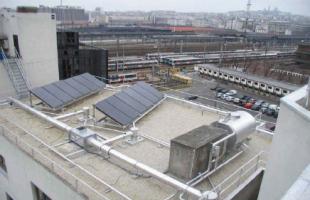 The segment of collective systems shows high growth rates in France: The main factor behind this growth are the incentives paid by Ademe, the France Energy Agency. The investment for the solar thermal system on top of this multi-storey building in Paris was €353,000 of which 39 % were subsidised by Ademe. Photo: Enerplan
The solar thermal market in metropolitan France grew by 25 % in 2008. According to a market survey of the Association Professionelle de l'Energie Solaire (Enerplan), 317,000 m2 were newly installed throughout this region (253,000 m2 in 2007) last year. Unfortunately, this growth lags far behind the expectations of the Ministry of Ecology and Sustainable Development, which predicted an annual market volume of 1,000,000 m2 by 2010.
he political conditions are good. All private investors can deduct the investment costs of a solar thermal system, excluding man-hours, when filing their tax return and therefore reduce their tax payment by subtracting half of the costs invested (for more information, please go to the database of incentive programmes). There are also a number of regional incentive programmes, which you will find listed in the attached document (status: December 2008).
When asked for the reasons why the market did not match political expectations, Enerplan's executive officer, Richard Loyen, said: "I see two reasons why the market did not grow as expected. Photovoltaic has been the dominant force, because of the feed-in tariffs. Secondly, heat pumps – which have a good reputation in France – have profited from the tax credits, too."
The segment of collective systems shows the highest growth rates of all (see the following table). In 2008, companies installed 57,000 m2 of collective systems altogether – that means a growth rate of 43 % compared to the previous year. According to Enerplan, high subsidies, which cover 60 to 80% of the investment costs of collective systems and can be found mainly with social housing estate projects, have been the main factor behind these growth rates shown so far.
| | | | | |
| --- | --- | --- | --- | --- |
| | 2007 | 2008 | | Growth rate [%] |
| Collective systems | 40,000 | 57,000 | m2 | 43% |
| Hot water systems for single family houses | 165,000 | 198,000 | m2 | 20% |
| Combi systems for single family houses | 48,000 | 62,000 | m2 | 29% |
| Total area according to addition | 253,000 | 317,000 | m2 | 25% |
Installed collector surface throughout the different sectors in France during the last two years. Source: Enerplan