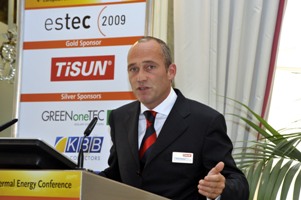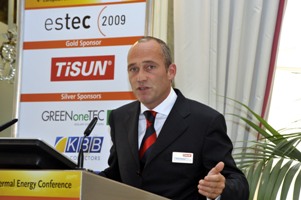 Europe: Robin Welling new President of ESTIF
The new President of the European Solar Thermal Industry Federation (ESTIF) is Robin Welling, Managing Director of Austrian collector manufacturer and system supplier Tisun, as well as Managing Director of Tisun LLC in New York. At the beginning of December, Welling was elected in Brussels by the General Assembly for a two-year period. He takes over from Olivier Drücke, who held the position between 2008 and 2010.
Photo: Tisun
"In the coming years, ESTIF will intensify its activities of putting solar thermal and renewable heat at the top of the political energy agenda," Welling summarized his objectives. According to the newly elected ESTIF President, the potential of solar thermal has not been recognized yet: "Solar thermal can contribute significantly to the 2020 targets and provide a long-term solution to energy issues, such as energy poverty".
Since 1996, the 44-year old economist has worked in different positions in the solar thermal sector: First, at wholesaler Sonnenkraft, where he was responsible for setting up sales offices in Italy, Spain, Portugal and France. Between 2002 and the end of 2005, he was involved in building up Austrian company General Solar Systems. At the beginning of 2006, Welling has joined Tisun as a shareholder.
The ESTIF President is supported by a Board of Directors, which was also newly elected at the beginning of December. The international team consists of:
Richard Loyen, Secretary General, Enerplan, France
Arthur De Vries, Secretary General, Holland Solar, Netherlands
José-Antonio Pérez, Group Product Manager Solar, BDR Thermea, Spain
Alexander Eichwalder, Director Sales and Marketing, Greenonetec, Austria
Harald Drück, Head of the Research and Testing Centre, Institute for Thermodynamics and Thermal Engineering (ITW) / University of Stuttgart, Germany
Nigel Cotton, Representative of the Advisory Council, European Copper Institute, Belgium
According to an ESTIF press release, Nigel Cotton warmly congratulated outgoing President Olivier Drücke, as well as the other Board members for their outstanding contributions over the past years.
ESTIF counts around 100 members from 19 different countries. 60 % of its members are manufacturers, 18 % are associations, 16 % are service providers and the remaining are supporting members. The largest numbers of companies come from the three countries Germany, Austria and Denmark. There are also members from non-EU countries, such as Liechtenstein, Macedonia, Norway and Switzerland, accounting for 8 % of its total memberships.
More information:
http://www.estif.org