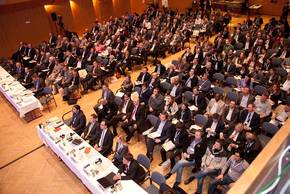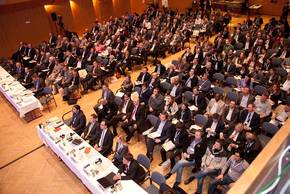 Europe: Conferences That Offer Solar Heating and Cooling Sessions in First Months of 2015
Europe's conference season now starts new after the end of 2014: This week, the World Sustainable Energy Days began in Wels, Austria, with a special focus on Nearly Zero Energy Buildings. Solarthermalworld.org is offering information about all important events on the Calender of Events and will highlight some upcoming conferences in this news piece. The variety of solar heating and cooling topics is great, but the technology remains on the sidelines during most conferences. The Calender of Events lists 70 renewable conferences and fairs until November 2016.
Photo: World Sustainable Energy Days
Starting point is the
9th International Renewable Energy Storage Conference (IRES 2015)
, which will take place in Düsseldorf, Germany, from 9 to 11 March together with the Energy Storage conference and the trade fair exhibition with more than 100 exhibitors. IRES' over 200 scientific oral presentations and posters will focus on all kinds of energy storage systems in the field of renewables and stationary units, including electrical, thermal and chemical storage systems. One of the parallel sessions is entitled Thermal/Thermochemical Energy Storage and/or Power-to-Heat and will present a number of relevant issues for solar heat storage systems, such as vacuum insulation, sorption heat storage technology and latent heat storage systems, albeit some presentations will relate it to solar power production.
Conference website
The
SEE Solar – South-East European Exhibition on Solar PV and Thermal Technologies
is going to take place in Sofia, Bulgaria, between 11 and 13 March, parallel to the 10
th
South-East European Congress & Exhibition. Relevant topics for solar thermal are The Future of District Energy in the EU, which will be organised by Belgium organisation Euroheat & Power, and Smart Cities, which will cover many different aspects, such as storage, project financing and smart houses.
Conference website
The
Solarexpo
is the key event for solar professionals in Italy. The conference and fair will be held in Milan's MiCo Exhibition and Conference Centre from 8 to 10 April 2014. The focus is increasingly turning to photovoltaics, which means that the conference programme includes only a few sessions dedicated to solar thermal. One of these sessions is called Progress in the Italian Incentive Schemes for Energy Efficiency: Conto Termico, and another one covers the topics of solar process heat in industry, as well as solar cooling. The conference language is Italian.
Conference website
The
2nd Renexpo Western Balkans
conference and fair will take place in Belgrade, Serbia, from 22 to 23 April, and an announcement has been made to include a conference on energy efficiency in cooperation with the German Agency for International Cooperation, GIZ, but its programme has not been available yet. The conference is free of charge and will be in English with simultaneous interpreting into Serbian.
Conference website
The
All-Energy Exhibition & Conference
will be held in Glasgow, UK, this year, after the venue had been Aberdeen for 14 years. The two-day event on 6 and 7 May 2015 will offer half a day on Renewable District Heating on the first day of the conference. The conference is free of charge.
Conference website
The
25th Solar Thermal Technology Symposium
organised by the East-Bavarian Institute for Technology Transfer, OTTI, between 6 and 8 May 2015 is the key event for German-speaking solar thermal specialists during the first half of 2015. Every year, more than 300 solar thermal experts meet for three days to present the latest technical developments, but also discuss economics and market policy.
Conference website
Neither the conference BePositive 2015, which will run parallel to the EnR Renewable Energy Exhibition 2015, in Lyon, France, on 6 to 8 March, nor the Intersolar Europe Conference, which will take place at the same time as the Intersolar 2015 fair in Munich, Germany, from 10 to 12 June will offer a session directly dedicated to solar heating and cooling.