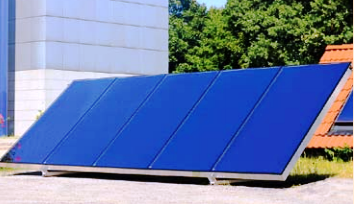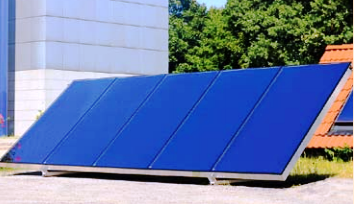 Europe: Comparing Solar Keymark Data on Collectors with Foil or Double Glass Cover to Ones Without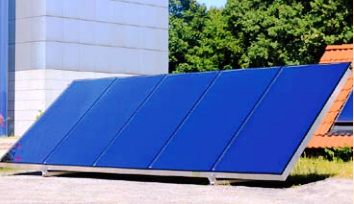 Denmark's success story in solar district heating, with 2016 having been another record year which almost doubled newly installed collector area to around 500,000 m², showcases the large potential of this type of application across Europe. Cost cuts in the supply chain are key: Two vital factors are fast installation and less hydraulic work on site. The answer by manufacturers to these challenges has been to design large-scale prefabricated collectors. Suppliers of vacuum tube collectors offer modular designs for easy mounting of collectors above 10 m²; large flat plate versions come as one piece and certified by Solar Keymark. The yearly market surveys by German magazine Sonne Wind & Wärme show that the number of certified flat plate collector panels above 10 m² of gross collector area has increased in Europe in recent years. As of 29 March 2017, the magazine's online collector database listed 62 models from eight brands compared to 20 types of collectors in October 2015.
Photo: KBB
Some of the products shown in the database come from pioneers in the manufacture of large-scale flat plate collectors, such as Arcon from Denmark, Ökotech from Austria and Aquasol from Germany. But the list also includes more recent units, for example, from OEM collector manufacturers Greenonetec (Austria) and KBB Kollektorbau (Germany) as well as Savo-Solar (Finland). Savo-Solar uses complete direct-flow absorbers made from an aluminium
multi-port extrusion profile
.
As district heating networks often operate at higher temperatures, better insulation is required to increase collector efficiency at return temperatures of 50 to 70 °C. Several products have either a double-glass cover or a foil between the glass cover and the absorber to reduce convection losses. Additionally, some manufacturers use antireflective coating on their glass covers to improve transmission properties.
About 20 % higher yield at 75 °C if collectors double-glazed or foil-insulated
The annual collector yield shown on Solar Keymark certificates for different temperatures makes it possible to compare large-scale collector modules (above 10 m² of gross collector area) with or without a foil or second glass cover. The table below states annual average yields per square meter of gross collector area at a mean temperature of 50 or 75 °C. The increase in efficiency becomes more apparent at higher temperatures. Collectors with a foil or second glass cover produce, on average, 22 % more kilowatt-hours at 75 °C, whereas the increase is only 10 % at 50 °C.
Individual output figures from the certificates are not published in this article, because some certificates of collectors above 10 m² are part of a certificate family. Their yield has merely been extrapolated from the smaller collector types of the same product line, which lowers the rating. Other large-scale collector types have been tested separately, which has caused their rating to improve. Correspondingly, there is a big gap between the best and the worst collector module in terms of performance. This effect is clearly visible in the category of single-glass collectors. The output of individually tested models (up to 416 kWh/m²a) is almost twice as high as that of low-yield family-tested products, where it can get down to 220 kWh/m²a. Among the double-glazed or foil-insulated collectors, the difference at 75 °C is not as large (31 % between 354 and 462 kWh/m²a).

Annual specific yield at 50 °C in Würzburg
[kWh/m² of gross collector area]

Annual specific yield at 75 °C in Würzburg
[kWh/m² of gross collector area]

Collectors with foil or second glass cover

Average specific yield of five collector modules

575

411

Collector showing largest yield

623

462

Collector showing lowest yield

509

354

Collector with single glass cover

Average specific yield of seven collector modules

522

338

Collector showing largest yield

606

416

Collector showing lowest yield

389

220
The above-shown average collector yield figures were calculated based on 12 different certificates from the following manufacturers: Aquasol Solartechnik, Arcon-Sunmark, Greenonetec, KBB Kollektorbau, Ökotech Solarkollektoren, Savo-Solar and SST Solar.
Websites of companies mentioned in this article: