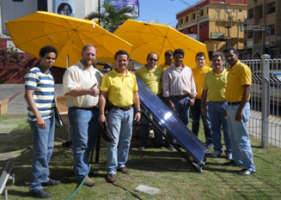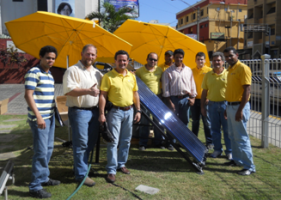 Retecsa Sunmaxx training
Dominican Republic: Purchase Agreement between Sunmaxx and Retecsa
Installation company Retecsa from the Dominican Republic and US-American system supplier Sunmaxx have entered into a purchase agreement. Part of this new cooperation was a 4-day training in January by Sunmaxx instructor Todd Paternoster at the Retecsa company site in Santiago. Besides technical issues, the training answered questions about the advantages and energy savings of renewable energy systems, as well as how to use specialised software to design larger solar thermal projects. Photo: Sunmaxx
Retecsa, a company with 12 employees, has been installing renewable energy systems based on three different technologies – photovoltaics, solar thermal and wind. "We started selling and installing solar water heaters about 10 years ago – mostly thermosiphon systems," Retecsa's owner, Marco Antuña, says. "However, there is a growing market for high-end renewable systems in the Dominican Republic." Hence, Retecsa has recently begun to also install pumped solar thermal systems, both for residential and commercial clients. With the Sunmaxx product line, the company hopes to reach hotels, restaurants, laundries, as well as the industrial sector. Sunmaxx is a solar thermal system supplier from the US East Coast, importing flat-plate and vacuum tube collectors from Austria and China.
The adaptation of Ley 57-07, the Law of Incentives for Renewable Energy and Special Applications, in 2007 marked a turning point in the development of the renewable energy sector in the Dominican Republic (see the attached document in Spanish). The law published by the Comisión Nacional de Energía (CNE) requires far-reaching support mechanisms for a wide range of renewable technologies – among them solar water heaters:
Solar water heater technology and components are free of import duties (article 9).
Solar water heaters are also VAT free (article 9).
Private and commercial owners of solar water heaters can deduct 75 % of the investment costs for a system from the tax declaration in the first three years after the purchase (article 12).
All social institutions can benefit from low-interest loans, which cover up to 75 % of the total system and installation costs (article 13).
More information:
http://www.sunmaxxsolar.com
http://retecsa.net/