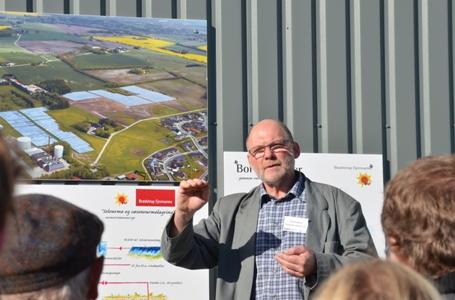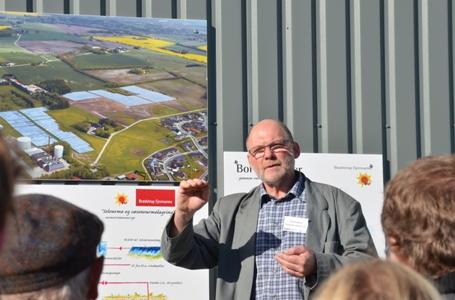 Denmark: Exporting the Solar District Heating Success Story
On 28 September 2012, solar heating experts, planners, and potential customers met in Breadstrup, Denmark, for a workshop on solar district heating and a tour around the Braedstrup district heating plant (see photo). The conference with the title "Become Part of a Danish Success Story" took place in the framework of the EU project SDHplus. There had also been a project meeting one day before the conference. Most of this meeting had been devoted to discussing business models for green heat. The options ranged from collaborations (system owned by the customer as has been the case with most Danish plants) to new models, for example, which feed solar heat from the customers' roof back into the grid.
Photo: Eva Augsten
"What we need next are case studies for innovative business models and integrations," Thomas Pauschinger, Project Coordinator at German research centre Solites, says. Most of the countries which have already participated in the SDHtake-off project are trying to integrate solar thermal into Combined Heat and Power (CHP) plants. About half of the 45 businesses which attended the conference are directly involved in the EU project.
With a collector area of 18,600 m2, the Braedstrup solar district heating plant is the second largest in Denmark and the first which integrates solar thermal into a CHP plant. It now combines a heat pump, a borehole storage and an electric boiler. When electric power is needed, the CHP plant is run. When there is too much electricity in the grid, the heat pump and electric boiler convert it into heat. Fully integrated poly-generation plants as this one will be needed more and more during the expansion of wind energy projects in Denmark. As soon as 2020, 50 % of Denmark's electricity is thought to be generated by wind energy. This means standstill for the CHP plants whenever there is a surplus of electricity and thermal storage will be needed.
In the afternoon of the first conference day, the participants split up in working groups to discuss key figures of several possible real-life projects they provided. Although time was limited and there was not much room for discussion, these examples showed that there are several different options besides the Danish smart grid in which solar district heating makes sense:
In southern Germany, a gas utility runs three gas compression stations for a high-pressure gas grid. The waste heat could be used in district heating, because one of the stations is close to a village. These compression stations, however, run only from November to March. So, solar thermal energy might be a good solution to fill the gap.
There is a biomass-based district heating under study in a town in France. A gas boiler may supply peak and summer loads, because the large biomass boiler cannot operate at the very low loads in summer. To save fuel costs and CO2 emissions, however, solar would make more sense.
In the Slovenian town of Maribor, an existing but non-operational district heating sub-system is planned to be run again. As the heat exchanger stations in the customer´s buildings need to be replaced anyway, this chance could be taken to reduce the feed temperature from 85 to 65 °C. The local utility is considering a cogeneration system which will run with natural gas or, as an alternative, a biomass plant in combination with solar thermal. Irradiation and heat costs are favourable for solar, but high interest rates and land costs prove to be a challenge.
A town in northern Italy is currently operating a district heating grid with a CHP plant. As electricity prices and heat consumption are both low in summer, the town would prefer to stop the plant during the sunny months and use solar heat instead.
A Spanish town is looking for an emission-free heat source for a rebuilt area in the city centre. Because space is very limited, roof-mounted solar thermal system may be a good solution.
At the end of the workshop, Pauschinger summed up the days as follows: "Everybody was very motivated. Many of those who are not part of the EU project have already participated in the conference for the second or third time. This shows that there is serious interest in the topic. I am convinced that at least some of the projects presented here at the workshop will become case studies of SDHplus and that some of these will be built later on."
More information:
Workshop presentations:  http://www.solar-district-heating.eu/Documents.aspx
Simple calculator for feasibility check of solar district heating: http://www.solarkey.dk/f-easy/f-easy.xlsx
SDHplus project: http://www.solar-district-heating.eu
Solites: http://www.solites.de