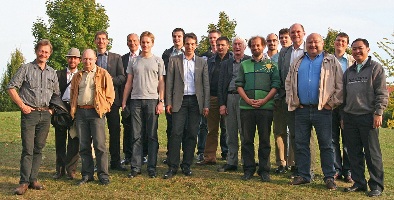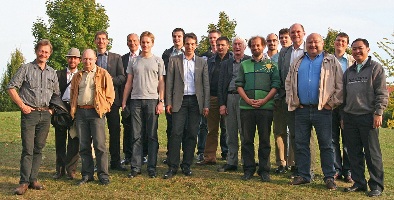 EU Project: Introducing Solar District Heating to the Market
18 experts from twelve different institutions and associations met in Stuttgart, Germany, to launch the EU project SDHtake-off. This team is to develop and introduce a new approach and new instruments for a Europe-wide market introduction of solar district heating.
Photo: Solites
The EU project SDHtake-off is coordinated by the German Steinbeis Research Institute for Solar and Sustainable Thermal Energy Systems Solites. SDH stands for Solar District Heating, the focus point of the project. Utilities and local district heat suppliers play the key parts in introducing SDH to the market. This explains why five important national district heating associations from Austria, the Czech Republic, Denmark, Germany, Italy and the European roof association Euroheat & Power are among the three-year project partners.
"Quite often, solar heating plants are considered competing with the widely spread Combined Heat & Power (CHP) plants. More and more heat suppliers, however, recognize the potential of solar thermal to increase the security of energy supply, freeze operational costs and reduce CO2-emissions," project coordinator Thomas Pauschinger from Solites is quoted in a press release sent out in the middle of October. The solar thermal expert counts on the advantage SDHtake-off has to bring together representatives from the utilities on the one hand and solar thermal technology experts on the other, in order to jointly develop approaches for integrating solar thermal in district heating systems.
"Long-term research programmes in Sweden, Denmark, Germany and Austria led to SDH demonstration plants – operating today at acceptable heat costs," the above mentioned press release states. "Since the middle of this decade, there has been an increasing interest in the commercial operation of SDH systems, mainly on the part of utilities but also by local authorities and the housing sector." Solar District Heating is now reaching market readiness.
According to Solites, experts estimate the long term share of solar thermal in district heating to go as high as 5 %, corresponding to an installed collector capacity of 47 GWth (67 million m²).
Project partners:
1. Steinbeis Research Institute for Solar and Sustainable Thermal Energy Systems Solites (Coordinator)
2. AGFW – German Heat and Power Association, Germany
3. Euroheat & Power, Belgium
4. CIT Energy Management AB, Sweden
5. Associazione Italiana Riscaldamento Urbano (AIRU), Italy
6. Ambiente Italia srl, Italy
7. Association for District Heating of the Czech Republic (ADH CR), Czech Republic
8. Cityplan spol s.r.o., Czech Republic
9. Planenergi, Denmark
10. Marstal Fjernvarme A.m.b.a., Denmark
11. SOLID Solar Installation and Design GmbH, Austria
12. Energie Graz GmbH & Co KG, Austria

More information: http://www.solar-district-heating.eu
More information on Solites: http://www.solites.de