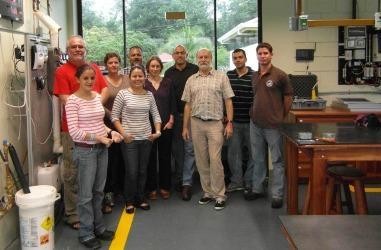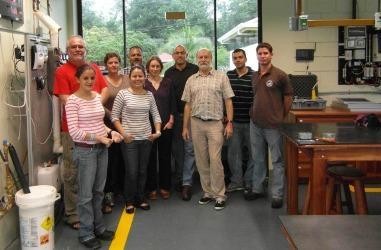 Costa Rica: Training Course at Earth University
An excellent campus, a highly motivated group of professionals and an abundantly sunny country: Martin Schnauss (third from right) is very satisfied with his Costa Rican training course, which took place in the middle of November at the international campus of the Earth University, a two-hour drive from the country's capital, San José. Together with his colleague Katie Brown, Schnauss held the one-week training course about solar heating and cooling technology in cooperation with the German Renewables Academy AG (RENAC). The course, which was financed by the German Federal Environment Ministry, BMU, was free of charge for the participants.
Photos: RENAC AG
The solar thermal training week addressed trainers and professionals from Costa Rica, as well as from the neighbouring countries of Honduras, Mexico and Guatemala. "The focus of the international Earth University is on agriculture – an interesting field for solar thermal applications," explains Martin Schnauss. According to the university's administrators, renewable energy should become a prominent subject on the curriculum. With the support of the BMU, the university has set up a renewable energy training centre to showcase solar thermal, solar photovoltaic technology and wind energy, as well as small hydro-energy and different bio-energy systems.
Martin Schnauss's training courses include both technical and non-technical aspects. "We spoke about sizing, hydraulics, components, as well as economic feasibility of a system or of application areas," he explains. The lecturer can look back at more than two decades of experience in the renewable energy sector, first at the Berlin Institute of Technology (TU Berlin), later at German engineering company Dr Valentin and at Solarpraxis. For the past 7 years, he has been working as a consultant with a focus on solar thermal technology. He has already trained professionals in Egypt, India, Kuwait and Nepal in solar heating and cooling technology.
Usually, Schnauss has a folder full of training material which he hands out to the participants. Still, he also recommends doing some practical work by using the equipment available onsite. Visits of already installed solar systems in the area are also part of the courses whenever possible. They give participants a better understanding of the way this type of system works.
More information:
http://www.renac.de
schnauss@renac.de
http://www.earth.ac.cr/