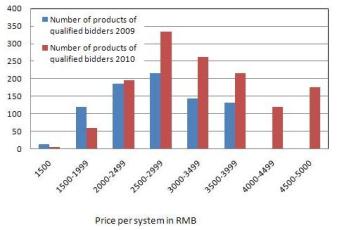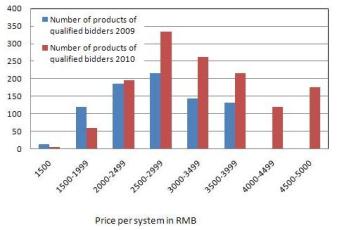 China: Rural Incentive Programme sees shift to higher-priced Products
The result from the second tender round of the national rural incentive programme in China: more companies with higher-priced products qualified for it. This year's price limit was RMB 5,000, a substantial increase from the RMB 4,000 last year (10 RMB is about 1 EUR).
Source: CRED
The second tender round for China's national rural incentive programme has been completed and its results have recently been published by the Center for Renewable Energy Development (CRED) in Beijing. Government authorities approved 168 companies for the incentive programme this year, among them 79 new companies (download the excel list here). 89 of those companies had already succeeded in the first tender round in spring 2009 (download the excel list here).
The number of products offered to customers increased from last year's 806 to 1,366 this year. The figure above shows a comparison of the results from the tender round in 2009 (blue column) and the one in 2010 (red column). There is a clear shift towards offering more expensive systems: Whereas last year, 40 % of the approved solar water heaters were for sale at prices below RMB 2,500, their share fell below 20% this year.
The national incentive programme for residential solar water heaters is thought to support proliferation of solar technology in China´s rural areas. The central government covers 13% of the investment costs of approved products. Only qualified bidders can profit from the subsidy.
More information:
National rural rebate Programme: http://www.ccgp.gov.cn/cgbx/zybx/2010/1111519.shtml