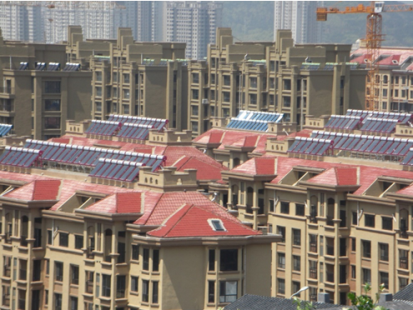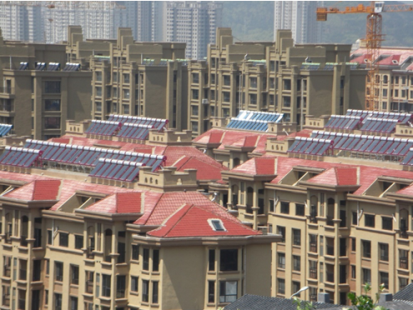 China: No Sales Permit without Solar
In 2007, some provincial and city governments in China began to implement solar installation requirements. Since then, an increasing number of authorities at different administrative levels have made the installation of solar thermal systems mandatory in new-builds in the residential and public sector, for example, in universities, schools, hospitals and nursing homes. The documents which have led to the development of provincial and municipal solar water heater installation requirements were the 11th Five-Year Plan New Energy and Renewable Energy Development (2006-2010) and the Renewable Energy Law of China. Despite some past announcements, there have not yet been any solar building requirements at national level.
Photo: Simon Goess
According to Zhichang Cai, lecturer at the College of Architecture at the Nanjing Tech University, solar water heaters in residential buildings have to provide 40 litres of hot water per day and person. A solar heating system in a public building, on the other hand, must at least cover 60% of the hot water demand. The following tables are based on several publications from 2012 and 2013 (see the list at the end of this article) and the author's own research, and they list the solar installation requirements in Shandong province, as well as in some other Chinese provinces and cities.

Table 1: Ten cities in Shandong Province have mandatory solar installation laws at municipal level. Some cities, such as Jinan, are front runners when it comes to implementing stricter or farther-reaching mandatory requirements than the ones that are being applied at provincial level
Sources: see below
Cai adds that the implementation of those mandatory installation requirements is to be carried out by the respective Construction Bureaus. So-called Construction Document Evaluation Centres review the construction documents. If the solar water heater systems are in line with the specified requirements and technical standards, the centre will issue a certificate to the developer. Only this certificate will allow the builder to apply for a building permit. The construction site, including the solar water heater installation, will be inspected regularly by the local construction bureau. The inspection following completion of the structure will include an energy efficiency check of insulation, shading and solar water heaters systems. If all regulations are fulfilled, the developer receives a certificate which enables him to apply for a sales permit.

Table 2: Mandatory building regulations in Chinese provinces and cities
Sources: see below

Sources for the two tables:
Xie, H., Zhang, C., Hao, B., Liu, S., & Zou, K. (2012). Review of solar obligations in China. Renewable and Sustainable Energy Reviews, 16, 113-122.

Yuan, X., Wang, X., & Zuo, J. (2013). Renewable energy in buildings in China – A review. Renewable and Sustainable Energy Reviews, 24, 1-8.

Sun's Vision. (2012). Compilation of solar thermal policies and regulations (太阳能热利用政策法规 – 汇编) (Chinese). Dezhou: Sun's Vision.
The text was written by Simon Goess, a German researcher from TU Delft who interviewed several solar thermal stakeholders from the industry, associations and the administration mainly across the Shandong province.