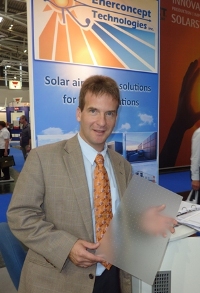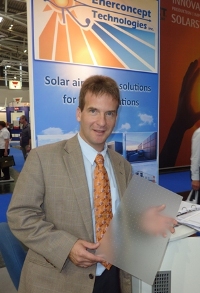 Canada: Best Efficiency Scores for new perforated Glazed Air Collector
It looks quite simple, this perforated, transparent plastic cover Christian Vachon, President of Enerconcept Technologies, is holding in his hands. The above-shown cover, however, achieved the best performance factor ever reached in the collector ranking of the Canadian Standards Association (CSA).
Photo: Stephanie Banse
"Our newly created Lubi wall has a score of 1.18. The best score in the industry so far was 1.00," Vachon explains. The comparative rating system had been established in 2008 by Natural Resources Canada and the responsibility for it was recently  transferred to CSA. At that time two years ago, Canadian air collector manufacturer Conserval Engineering reached the highest air collector output in kWh/m2 and day with its product SolarWall and was rated 1.00.
The Lubi wall consists of a transparent, perforated polycarbonate cover, which can be delivered in many different sizes and is mounted in front of the wall with standard building components. How did Enerconcept get the idea for the new product? "We added the benefits of multiple perforations to the high transmissivity of polycarbonate," Vachon explains. He looks back at more than ten years of designing and installing solar thermal systems, with air being the main heat transfer medium. In contrast to the glass cover of glazed air collectors, the plastic cover of a Lubi wall never gets warm, which means heat losses through the glazing are minimized. The second difference to already available systems is that the internal wall of the building adopts the function of the absorber, as opposed to a perforated metal sheet which is hung before the facade. The advantage: The hot absorber is protected from the cold surroundings and convection losses are minimized.
Together, both effects provide the high efficiency and good performance factor of the Lubi wall. The product is also offered as a roof-mounted system under the name of Luba GL and with a score of 1.10. In comparison, the closed air collectors by German air collector manufacturer Grammer reached 0.93 for the internal and 1.00 for the external version of the system.
 

Regular incentive rate  [CAD/m2]
Incentive rate in remote communities [CAD/m2]
Solar air
(glazed and unglazed)

70

112

Solar hot water
(glazed)

275

440

Solar hot water
(unglazed)

30

48
The incentive rate depends on the technology group and the location of the installed system.
Source: NRCan
A performance factor by CSA is more than a marketing advantage for a company. It is considered when calculating the level of the incentives granted by the EcoEnergy for Renewable Heat Programme, which runs until March 2011. The level of support is determined by multiplying the incentive rate, which depends on the technology group and the location of the installed system (see table above), with the collector area and the performance factor. The commercial, industrial and institutional sector are eligible for the Renewable Heat programme.
More information:
http://www.enerconcept.com
http://www.ecoaction.gc.ca/ecoenergy-ecoenergie/heat-chauffage/index-eng.cfm