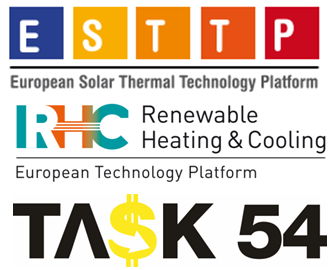 Brussels: Travel Where Politics and Funding Meet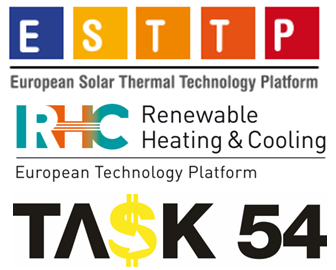 The organiser of the two day conference Solar Thermal Energy for Europe 2020 is inviting stakeholders from the industry and solar heating and cooling researchers to Brussels, Belgium, on 24 and 25 May to offer them first-hand information on Horizon 2020 calls, an exchange of ideas and experiences and a venue for finding soon-to-be project partners. The European Solar Thermal Technology Platform (ESTTP) of the Innovation Platform on Renewable Heating and Cooling (RHC) concludes with a workshop on the Price Reduction of Solar Thermal Systems. The one-and-a-half hour session will be organised by the researchers of the IEA Solar Heating and Cooling Programme's Task 54, which goes by the same name as the workshop.
The key issue to be discussed at the ESTTP workshop: How to proceed with the update of the Solar Heating and Cooling Technology Roadmap from June 2014 and the input for Horizon 2020 calls scheduled for 2018 and beyond (see the attached programme). In addition, Giulio Volpi from the Directorate General for Energy will present the European Heat Strategy and Piero De Bonis from the Directorate General for Research and Innovation will speak about the solar heating and cooling topics of the Horizon 2020 calls in 2017. You can register for the workshop
online
.
Targeting price cuts of up to 40 %
"Regarding the multi-faceted work on price reduction, we are looking for an exchange of ideas with representatives from solar thermal research, industry and trade," Michael Köhl, who heads Task 54, explained his motivation for participating in the event in Brussels. Task 54 was founded half a year ago and has so far been joined by researchers from nine countries: Australia, Austria, China, Denmark, France, Germany, Italy, Norway and Switzerland. The task members are still on the lookout for more experts from other countries and markets where solar thermal plays a decisive role. The first task projects were a survey on system costs for various applications in selected countries, conducted in close cooperation with Austrian research institute AEE INTEC, and a questionnaire about installation efforts. Both of them will be presented in more detail during the aforementioned session in Brussels. "We have to discuss the definitions of reference systems and the benchmarks again, this time with market players – particularly because we consider distribution, installation and maintenance costs on top of material costs," Köhl explained. Task 54 runs for three years with the aim of finding ways to reduce system price by up to 40 %.
Websites of institutions and programmes mentioned in the article: