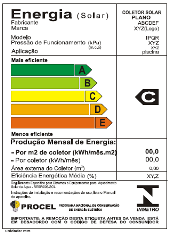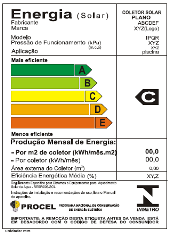 PBE Label
Brazil: Pros and Cons of Collector and Tank Labelling Programme
The history of solar heating in Brazil began in the early 1970ies with the emergence of the first factories for solar collectors. However, the development of the Brazilian market was only possible after INMETRO's creation of the Brazilian Labeling Program PBE in 1998.
Source: http://www.inmetro.gov.br
PBE was and still is an important key driver for the development of the solar energy market in Brazil, because it increases the trust in the quality of solar heating technology. By offering labels for solar thermal water heaters (see the figure above), PBE aims at providing information to consumers, which will enable them to evaluate and select products with a higher energy output. The following table shows the statistics of the 242 solar collectors labelled in Brazil by June 2010. The data was taken from the presentation by Inmetro members Alexandre Novgorodcev and Aluizio Ribeiro Gonçalves, which was held during the Sustentar, the third International Forum on Sustainable Development in June 2010 (see attached presentation).

| | | |
| --- | --- | --- |
| Label category | Glazed flat plate collectors | Unglazed collectors for swimming pools |
| A | 100 | 46 |
| B | 52 | 27 |
| C | 10 | 2 |
| D | 1 | 2 |
| E | 1 | 1 |
Number of labelled collectors in the two categories glazed and unglazed by June 2010. PBE labels are also available for refrigerators, light bulbs or washing machines.Source: Inmetro
The programme is still voluntary in Brazil, but is thought to become mandatory over the next two years and all of the around 150 producers of solar collectors in the country should be prepared to meet the programme's requirements.
In order to receive a "A PBE label", the products in question are sent to one of the laboratories accredited to carry out the respective performance tests: the IPT at Sao Paulo or the Green Solar at Belo Horizonte. The results of the subsequent performance tests determine the solar collector's rating between A and E. The tests are repeated periodically under a programme called ACP (monitoring of production), in order to adjust the final score. Its intention is to motivate manufacturers to achieve better performance levels compared to previous evaluations.
Although the PBE label programme is acknowledged as an important tool for the sector, some see it more critically: The criteria for a label do only consider collector performance, but do not include quality issues, such as durability, quality of materials, glass resistance, etc. It would therefore be possible for a manufacturer to receive an A label simply by reducing the thickness of the glass cover, hence increasing transmission levels. The possible instability of the collector, however, is not taken into account.
Some of the shortcomings of the PBE labelling programme may be corrected through a new Brazilian standard very similar to European ones, NBR 15 547, which is expected to come into force in 2011.
More information:
http://www.inmetro.gov.br
http://www.ipt.br/
http://www.green.pucminas.br
http://www.sustentar.net/
This text was written by Carlos Faria Café, Director of SE-Studio Equinócio – Marca Solar Group based in Brazil:
http://www.studioequinocio.com.br
café@studioequinocio.com.br