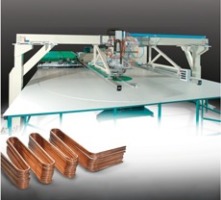 bending machine for serpentine absorbers
Bending Machines for Serpentine Absorbers – an Overview
Figure of a bending machine for serpentine absorbers: the bending head is situated in the middle of a horizontal table – in some cases supported by a sliding block to obtain the best bending angle.
Photo: SMI
The bending of hard copper tubes for serpentine absorbers is not an easy task. Bending machines are required which are quite big – a machine needs a space of up to 300 to 400 m². "If a company sells more than 100,000 m² of collector area with meander tubes, it becomes inevitable to purchase a bending machine, but if it sells less, it would not be profitable," says Managing Director Holger Kahl from the German company Reimann & Kahl GbR. This is one of the six suppliers of serpentine bending machines, which are introduced in the attached table.
Many collector manufacturers are now reaching this critical mass of meander absorbers per year. It is obvious for them to increase the depth of production by purchasing a bending machine and by now there are a number of models to choose from.
Most of the market-ready machines are fed from the coil. They consist of a straightening unit with vertical and horizontal straightening rolls and a cutting unit that allows the laying out of very different designs of serpentines. The bending head is situated in the middle of a horizontal table – in some cases supported by a sliding block to obtain the best bending angle.
When asked about the number of bending machines the suppliers have already sold, it becomes obvious that this is a new machinery field.
The German company Transfluid Maschinenbau GmbH has just delivered its first tube bending machine to the German collector manufacturer Vaillant GmbH. "During the processing of the serpentine the weight increases and it gets more and more difficult to bend it at full speed," explains Birgit Rabe, from the sales department. Therefore the supplier uses a special supporter system consisting of tables and brushes that guide the serpentine during the bending and ensure that the tube stays flat on the horizontal table. This way deformation of the serpentines is avoided.
Among the first clients of Pneuform Machine Ltd is one of the biggest flat-plate collector manufacturers in Europe. The British company has specialised in the manufacturing of tube bending for different applications for over 40 years. The model PB 600 Solar is a programmable bending machine that can produce meanders up to 5 meters by 4 meters from the spool.
DTEC dynamic technology GmbH have already sold two of their meander bending machines within the solar thermal industry. The Austrian company focuses on special equipment constructions for collector and absorber production. "We project, design, manufacture, install and put on stream all our machinery," explains Thomas Amesbauer from the technical sales team.
Ralc Italia Srl from Italy started already some years ago, to produce tube bending machines and can name some notable collector manufactures which have already bought meander bending machines from Ralc, but they do not want to see them published.
The Italian competitor Sistemi Meccanici Industriali srl (SMI) offers a wide range of serpentine bending machines – semi-automated as well as totally automated units. These electro-pneumatic machines can be designed for single- or multi-tube bending and can bend up to 14 tubes at the same time. The company does not want to say how many machines have already been sold in the solar thermal sector.
Overview of machinery suppliers see attached table.
More information:
http://www.pneuform.com
http://www.ralcitalia.it
http://www.reimann-kahl.de
http://www.smisrl.it
http://www.transfluid.de
http://www.dtec.at