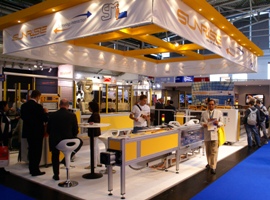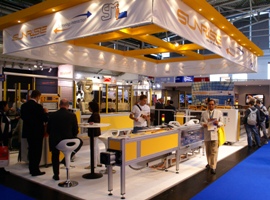 Strategic Partnerships for Turnkey Solar Collector Factories
Premiere at the Intersolar fair in Munich, Germany: SMI from Italy and Sunrise from Greece publicly announced their strategic partnership, with the goal to offer turnkey machinery solutions to the solar thermal industry. Photo: Bärbel Epp
A new era is beginning for machinery equipment suppliers: one of strategic partnerships, with the goal to offer turnkey factories for solar thermal panels. SMI and Sunrise presented their joined expertise on efficient and highly automated production processes for collector manufacturing at a 200 m2 booth at the Intersolar fair in Munich during the last week of May. SMI stands for Sistemi Meccanici Industriali Srl, an Italian manufacturer of tube processing machinery, with 10 years of experience in processing copper pipes.
"Our machinery is almost standard, but always very highly customised," Elisabetta Battistella, SMI´s export manager, says. She is very optimistic about the new "strategic partnership" with the Greek company Sunrise Solar Machinery, with which she shares the "same philosophy". "We offer solutions, not only machinery," Herbert Holzweißig, Sunrise´s technical support officer, says. Sunrise sold his first fully automated ultrasonic-welding line for full-plate solar absorbers back in 2002. Many other plants and machines have been successfully sold and installed since then. Together, both groups employ about 150 people and sell their machinery and equipment almost everywhere in the world and not only in the solar energy market.
The new partners are already negotiating turnkey projects with several interesting clients. "You can visit the first factory of our design next year, either in Germany or in the United States," Holzweißig announces.
More information:
Sunrise Solar Machinery, Item hellas Ltd, http://www.smisrl.it
Solar Machinery Innovation (SMI): http://www.sr-sis.com