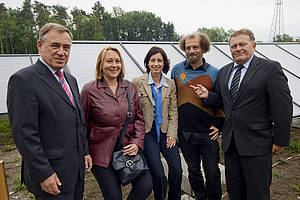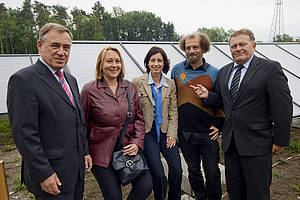 Austria: Solar District Heating on the Rise in Graz
On the 15th of May, the city of Graz saw the inauguration of another large-scale solar thermal installation (from left): Dr. Wolfgang Messner (Graz AG), Andrea Pavlovec-Meixner and Sonja Grabner (municipal councillors), Christian Holter (S.O.L.I.D) and Wolfgang Malik (Graz AG). Photo: Graz AG
The inauguration date was well scheduled: It was on the European Solar Day, the 15 May 2009, that the Austrian city of Graz could officially present its latest large-scale solar thermal plant to the public. The plant includes 3,980 m2 of collector area, which are set up in an area that the water supply company Graz AG uses for water runoff. Installations began in March this year and were completed in May. The generated heat is fed into the Graz AG building on site, as well as into the district heating system of the city of Graz.
Responsible for designing, delivering and implementing the large solar thermal system is the Austrian engineering office S.O.L.I.D, the prime contractor of the EUR 1.5 million deal.
The collectors themselves were manufactured by the Austrian company Oekotech. The so-called HT collectors have been specifically developed to produce high temperatures (over 85 °C) and achieve better performance results than most vacuum tube collectors would on clear days.

The new solar thermal installation is the latest of a series of several large-scale solar thermal plants in and around the city of Graz. The Graz District Heating has now installed a total of 6.5 MW of solar thermal capacity to help meet a demand of 14 MW during the summer months. "Our four large-scale solar thermal systems can now cover 40 % of the hot water demand that the Graz district heating system has to meet during daylight in summer times," Christian Holter, S.O.L.I.D's managing director, says. The overall target is obvious: Solar energy should eventually replace the inefficient use of natural gas boilers during the summer months as a whole.
S.O.L.I.D. developed this project in partnership with the city of Graz supported by both the mayor Siegfried Nagl and deputy mayor Lisa Rücker, the city owned Graz AG as well as the utility Energie Graz. The utility pays the same rate for solar thermal energy as it does for the energy produced by the gas boilers.
The plant will also possess an additional heat pump, since the solar radiation during Graz' winter months is sometimes not sufficient enough to produce the temperature needed for space heating systems. Detailed monitoring will help determine the effectiveness of the solar/heat pump combination.
More information:
S.O.L.I.D: http://www.solid.at
Graz AG: http://www.grazag.at
Energie Graz: http://www.energie-graz.at