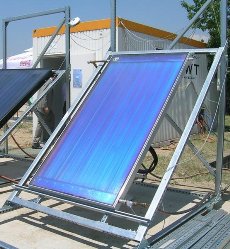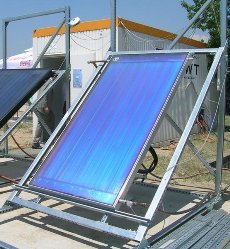 test center in Albania
Albania: Solar Water Heaters Project increases Market Size (2008)
Albanian's solar thermal testing centre: inaugurated in September 2008, managed by the Harry Fultz Institute in Tirana and financed by the Austrian Development Agency (ADA) and the United Nations Development Programme (UNDP).
Photo: http://www.entwicklung.at
Stimulating the market for thermal technology in Albania was the task of a programme called "Solar Water Heaters – Training of Experts & Professionals and Improvement of Technology & Production in Albania". During four years, it provided trainings for professionals and helped set up demonstration systems in the country. Moreover, it led to the founding of the Albanian Testing and Certification Centre for Solar Water Heating Systems. Executed by the Austrian AEE – Institute for Sustainable Technologies, the programme received its financial support from the Austrian Development Agency (ADA). All in all, the funding by ADA amounted to EUR 300,000. The major results of the project are:
Installation of seven demonstration systems on the roofs of various social institutions. The systems´ monitoring devices recorded an annual solar radiation between 1,480 and 1,670 kWh/m2 and solar yields of the improved solar thermal systems between 390 and 530 kWh/m2.
Foundation of an "Albanian Solar Test Centre" on the premises of the Harry Fultz Institute in Tirana. The German company Solar- und Wärmetechnik (SWT) provided the testing equipment for it. The solar centre allows scientists to determine the performance of solar collectors with the steady state and the quasi-dynamic performance test described in EN 12975-2. Inaugurated at the 11 September 2008, it has been managed by the Harry Fultz Institute in cooperation with the Albania-EU Energy Efficiency Centre. The test centre receives its funding from the ADA and the United National Development Programme (UNDP).
Based on experiences with the "Solar Water Heaters – Albania" project, the Global Environmental Fund (GEF) and the United Nations Development Programme (UNDP) have agreed to implement the "Global Solar Water Heating Market Transformation and Strengthening Initiative" project, in which Albania is one of six participating countries. It was officially launched at a workshop in Tirana at the beginning of December 2009.
More Information:
Austrian Development Agency (ADA): http://www.entwicklung.at
Albania-EU Energy Efficiency Centre (EEC): http://www.eec.org.al
AEE – Institute for Sustainable Technologies: http://www.aee-intec.at
United National Development Programme (UNDP): http://www.undp.org.al/index.php?page=detail&id=103
Solar- und Wärmetechnik (SWT): http://www.swt-technologie.de
Text was written by communication specialist Hanna Schober based in South Africa. Schober@solrico.com