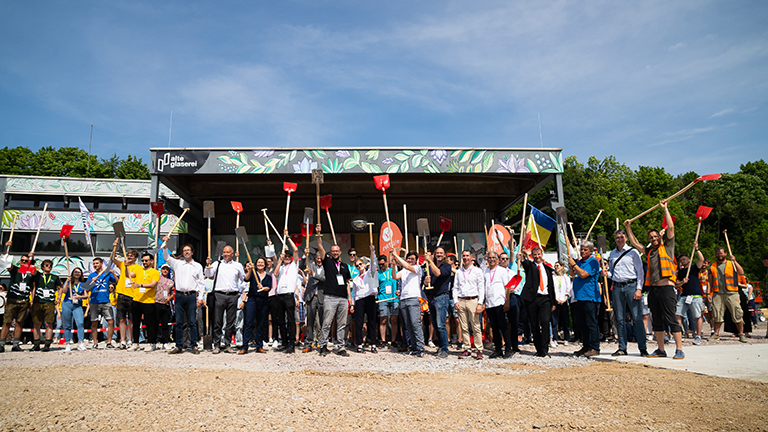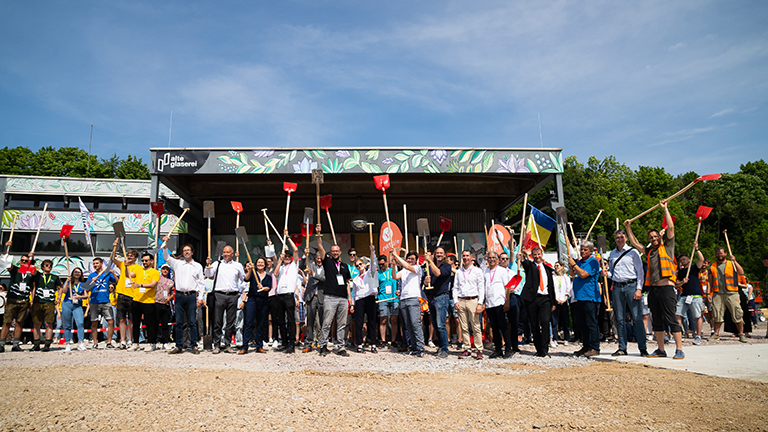 16 living spaces for a better world
Solar Decathlon – the world's largest construction competition for universities – will open for visitors in mid-June in Wuppertal, Germany. More than 1,200 students have worked over three years to prepare the exhibition, which will include 16 full-scale (1:1) flagship buildings for sustainable urban living. Two additional teams from Thailand are not able to be there because of the high transportation costs. All 18 student groups are competing for a large number of awards, one of them will be given by the IEA Solar Heating and Cooling Programme together with the International Solar Energy Society (ISES) for the best solution for the integration of solar heat. The photo shows the ground-breaking ceremony on 19 May.
Photo: Solar Decathlon
"Solar thermal energy plays an important role in sustainable building concepts. This is shown by the teams selected for this year's Solar Decathlon. 80 % of the concepts rely either on PVT or on solar collectors for emission-free heating and/or cooling", said Kerstin Krüger, Chair of the jury that will choose the solar heat award beneficiary among the 18 teams. The award will recognise the most effective technical integration of a solar heating and cooling system that is replicable and contributes to reducing the CO2 emissions of the energy supply of a building or urban neighbourhood.
Krüger will be supported by the IEA SHC Chair Tomas Olejnicza, the ISES President Prof. Klaus Vajen and Prof. Andreas Häberle, head of the SPF Institute for Solar Technology in Rapperswil, Switzerland.
16 fully functional sustainable showcase buildings
In the next two weeks, several hundred students and their supporters will construct their prototype buildings. The special point is that these are not models but are real, fully functional and habitable buildings. After the exhibition the buildings will be used as apartments for employees of the University of Wuppertal.
In the following, some of the concepts that use active solar thermal technologies are presented.


The Local+ team from the University of Applied Sciences in Aachen, Germany, has designed a multi-storey building that offers apartments for people of different ages living alone temporarily. The premises should also close gaps between buildings in urban areas. The house is heated via a PVT field on the roof that either provides heat directly to the heat pump or regenerates the ice storage. Figure: FH Aachen


Wood is the primary building material of the demonstration house from Eindhoven, Netherlands. The building is also characterised by an accessible roof-top garden which also gives access to the PV field. A special architectural feature of the VIRTUe concept are the PVT panels in the façade that are made in a colour that matches the recycled wood and illustrates that solar panels can be attractively integrated into architecture. An interactive display in the living room helps the inhabitants to control their energy consumption.
Photos: VIRTUe / SDE 21/22


The Taiwanese team TDIS – which stands for Transdisciplinary Design Innovation Shop – was already successful in previous Solar Decathlon competitions. They have come to Wuppertal with a terraced house or so-called shop house, which are typically found in cities in East and Southeast Asia. Solar collectors on the roof and a rain-water collection system make sure that the residents can live self-sufficiently. A thermal control layer envelops the whole building and includes all piping and wiring utilities. Photos: TDIS / SDE 21/22
More information:
https://sde21.eu/de/