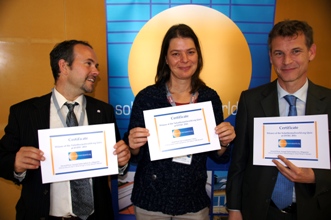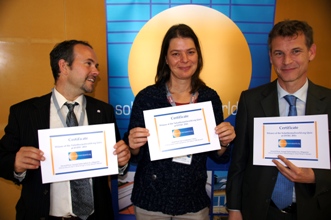 Winners of the Solarthermalworld.org Quiz 2011
Second round of the solarthermalworld.org quiz: The winners of 2011 were announced at the end of the ESTEC 2011 conference in Marseilles, France, on 21 October. The photo shows the three participants who were able to answer the ten questions in the shortest time (from left): Jan Knaack (BSW Solar), Anja Loose (ITW Stuttgart) and Olivier Drücke (Eclareon).
Photo: Stephanie Banse
The first prize went to Anja Loose (ITW Stuttgart), who needed only one minute to find the correct answers to all ten questions. She had the choice between tickets for one of the following conferences organised by Solarpraxis AG, Germany: 12th Forum Solarpraxis in Berlin, CIS-IT 2012 in Rome or SMEThermal 2012 in Berlin.
Jan Knaack (BSW) and Olivier Drücke (Eclareon) needed some more seconds to give the ten correct answers and occupied second and third place, respectively. Each of them received a subscription for the international magazine "Sun and Wind Energy", sponsored by German publishing company BVA. The quiz included ten multiple-choice questions, asking about solar thermal in general, technical issues, as well as the website solarthermalworld.org. A few examples:
The most common type of evacuated tubes for solar thermal is named after a city in Australia. Which one?
Which country has the largest totally installed flat plate collector area worldwide?
Which technology is not used for making holes in manifold pipes?
In which year was the first Solar Keymark certificate for a solar collector handed out?
What means REC?
Around 50 researchers and industry representatives took part in the quiz. Only participants of the European Solar Thermal Energy Conference (estec) were allowed to fill in the quiz form. More than 300 solar thermal specialists attended the two-day event, discussing market development in central Europe and the Mediterranean countries.