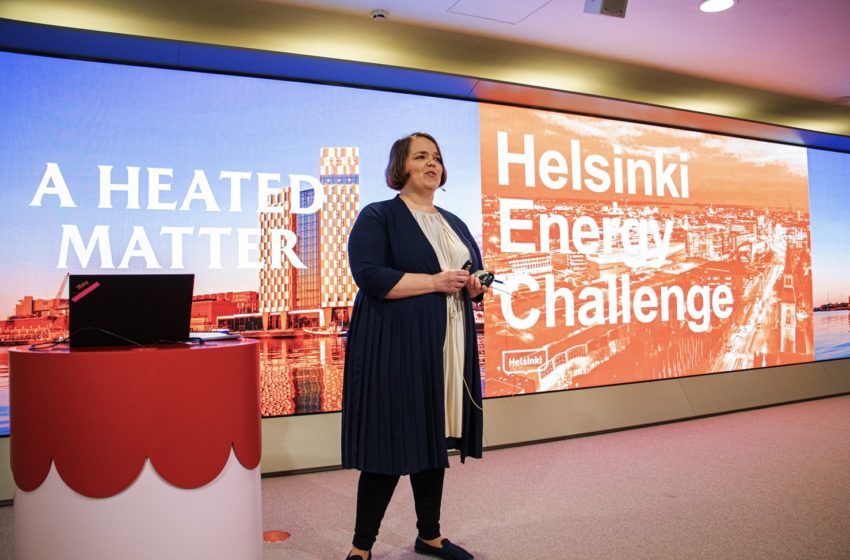 Winners named in Helsinki Energy Challenge for carbon-neutral district heat
An expert panel has now picked four winning ideas from the 252 submitted for the Helsinki Energy Challenge, which gave stakeholders in the energy market a chance to put forward their solutions for carbon-neutral district heating in Finland's capital by 2035. One award went to the HIVE consortium, which was led by French utility Engie and also included Finnish collector manufacturer Savosolar, French project developer Newheat, Danish consultancy Planenergi and Austrian research institute AEE INTEC. HIVE's suggestion of combining tried-and-true technologies – sea water heat pumps, two 25 MW solar heat plants, electric boilers and seasonal storage – has netted the team EUR 350,000 in award money. The aim of the city's EUR 1 million challenge was to highlight game-changing ideas that could shape the future of urban heating and encourage other cities to step up and join the green energy revolution.
Helsinki's goal of becoming carbon-neutral by 2035 is complicated by the fact that the city is in a cold climate region. As a result, demand for space heating is high, and about 56 % of the city's direct carbon dioxide emissions originate with its heat network. This network uses mainly coal (53 %) and natural gas (35 %) to generate 7 TWh per year. But the first of Helsinki's two coal-fired CHP plants is now said to be shut down by 2024.
Hence, to speed up the search for alternative, sustainable clean sources of heat, the city created the Helsinki Energy Challenge, which was officially launched by Project Director Laura Uuttu-Deschryvere on 7 February 2020 (see the photo above).
"We invite innovators from all around the world to use our city as a testbed for developing not just fossil-free but truly sustainable solutions that don't rely on biomass-fired heating," Helsinki's mayor, Jan Vapaavuori, said at the time.
Two-minute clips portrait finalists
In the weeks that followed, 252 teams from 35 countries submitted their ideas on how to tackle the challenge. Ten of them, made up of 100+ people from over 40 organisations and 12 countries, then advanced to the final round. In the second half of 2020, those finalists were invited back to participate in interactive online workshops receiving further insights and guidance on the topic – partly to ensure solutions will fit the Helsinki context as best as possible and partly to encourage participants to think about how other cities could benefit from their solutions.
New megawatt capacity HIVE expects to be added by 2024, 2029 and 2035.
Source: HIVE
"We have learned a great deal during the process and we will be sharing these lessons with all cities," Uuttu-Deschryvere was quoted as saying in a mid-March article. Since then, Helsinki has not only put the finalists' proposals online but also released a two-minute film about each of the 10 contestants:
https://energychallenge.hel.fi/results-helsinki-energy-challenge
HIVE's win "demonstrates that solar thermal can be a competitive source of heat for northern cities and be also combined easily with any other energy source," Jari Varjotie, CEO of Savosolar, said in a mid-March press release. The consortium's idea, he wrote, could end coal burning by 2028, replace all fossil fuels after 2035 and reduce biomass consumption to 50 % of 2024 needs. It would also cut GHG emissions by 78 %, in line with Helsinki's targets.
"We convinced the jury of our proposal by showing that a combination of well-proven technologies can achieve Helsinki's ambitious sustainability targets at a cost per megawatt hour that is not higher than it is today," said Ingo Leusbrock, Leader of AEE INTEC research group Cities and Networks. "We also made clear that our solution is well-suited for integration with other finalists' innovative ideas."
Indeed, combining technologies seems to be the right path to follow, Uuttu-Deschryvere said. "After working with some of the world's foremost innovators in the urban heating market, we now have a very wide range of solutions at our disposal, all of which we can utilise in the future."
But there is still a long way to go before any of the proposals can be put into practice. As the Helsinki Energy Challenge was more of an idea competition than an actual request for tenders, the long road ahead will involve having to choosing suitable partners as well as projects. Daniel Trier, who works for HIVE consortium member Planenergi, voiced his hope that Helsinki will become a model for other cities to follow once it demonstrates that sustainable heat supply is both doable and feasible.
Another winner: the Smart Salt City, a solution merging novel thermochemical storage and artificial intelligence with commercially available energy generation systems, in an effort to reuse as much of the existing infrastructure as possible. The extent to which old infrastructure will be integrated into the new solution will depend on heat prices, which are assumed to increase between 5 % and 10 %.
Source:
https://energychallenge.hel.fi/
The third solution receiving an award was Helsinki's Hot Heart, a flexible structure that is made up of 10 floating reservoirs filled with 10 million m3 of hot seawater. It can be operated using several types of energy sources. Four of its cylindrical tanks are enclosed by inflatable roof structures, to create a new leisure attraction.
Organisations mentioned in this article: