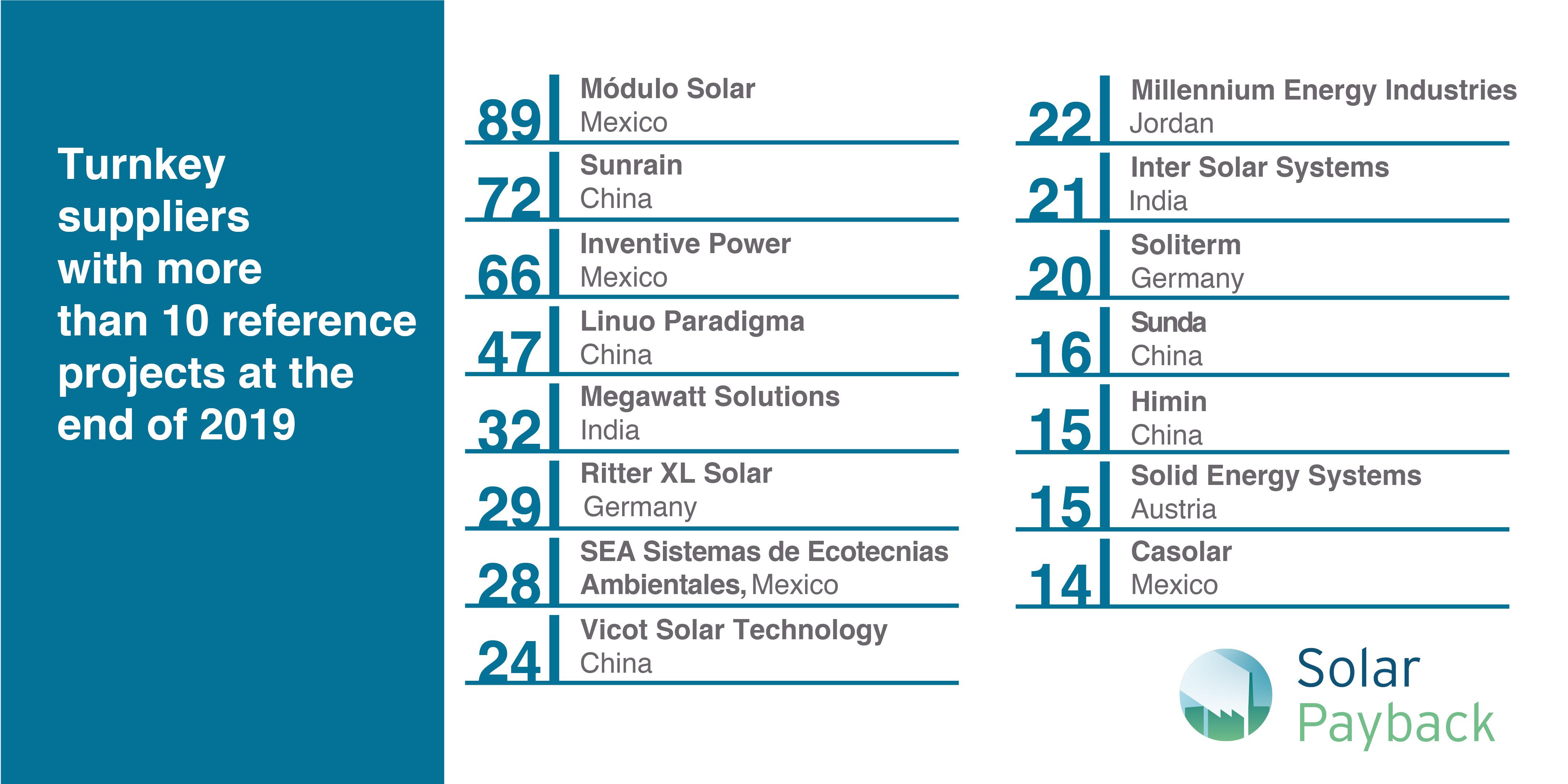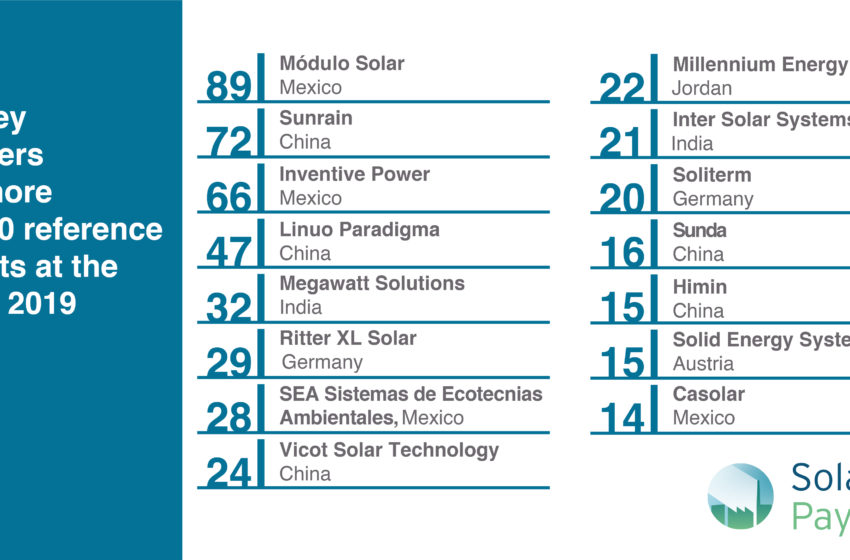 Where to look for the world's most experienced SHIP suppliers
China and Mexico are the hubs of the global solar industrial heat (SHIP) supply industry. Five of the companies that completed the most SHIP projects by the end of 2019 are from China and four from Mexico; another two each are based in Germany and India (see chart above). These are the results of surveying the around 80 companies that are listed on the SHIP Supplier World Map. Since 2014, German agency solrico has carried out five annual SHIP surveys partly under the auspices of the Solar Payback project. The number of reference plants stated by each company was checked and further information requested if there were any discrepancies. Two other news reports on the SHIP survey results can be found here: news 1 and news 2. 
Chart: Solar Payback
Only companies responding to the most recent survey are listed on the World Map. The total currently stands at 76 technology suppliers, which completed 617 reference projects. In all, 61 % of these companies (yellow and dark green icons) produce at least one sort of collector in-house. The collector type is illustrated in the popup window that opens up when clicking on an icon on the world map. The other businesses are system integrators, which offer industrial solar heat systems outfitted with a collector type based on customer needs (orange and light green icons).
The most common collector types are flat plate and parabolic trough collectors, produced by 14 and 13 world map-listed companies, respectively (see the pie chart below). The map also shows a relatively small number of eight vacuum tube collector manufacturers, which put up a great many SHIP plants especially in China. The share of Linear Fresnel producers increased in recent years, but the number of commissioned industrial heat projects using this collector technology is still comparatively small.
How to select the supplier you need
Key criteria for choosing an appropriate technology partner may include the number of SHIP systems completed thus far, the in-house expertise in collector manufacturing, or the sort of collectors available. Likewise, it could be important to see whether a certain company offers heat supply contracts as well. You can find all of this information in the popup window that will open as soon as you click on a company´s world map icon (see chart below). In all, 31 of the companies listed on the map offer industrial clients heat contracting options instead of selling system's hardware to them.
A diverse market
Since the beginning, solrico's aim has been to paint an as complete picture of the SHIP market as possible. This is why businesses that do not have SHIP references yet but that have begun working on industrial heat projects and have experience in putting up large solar thermal systems for public and commercial customers have been put on the map as well. Currently, there are 15 such companies, represented on the map by yellow or orange icons.
More information: