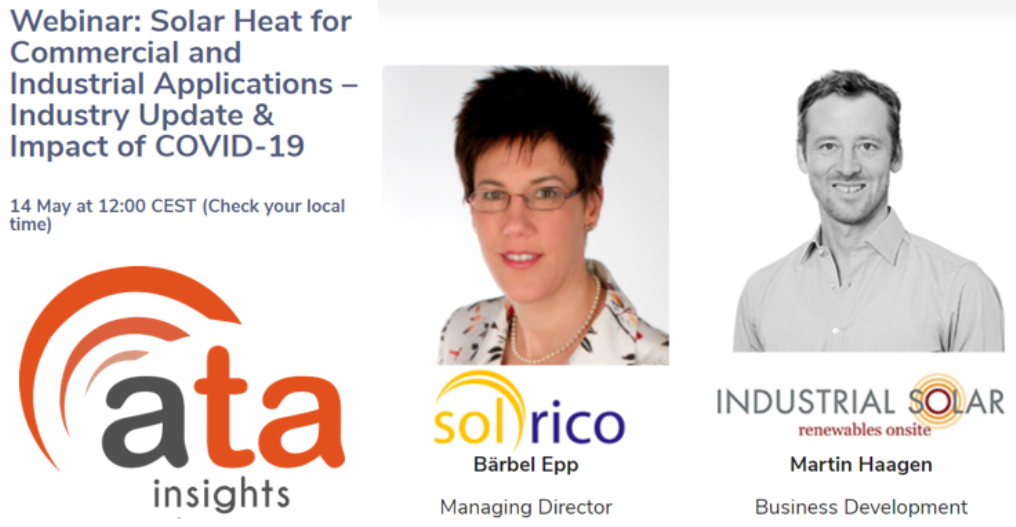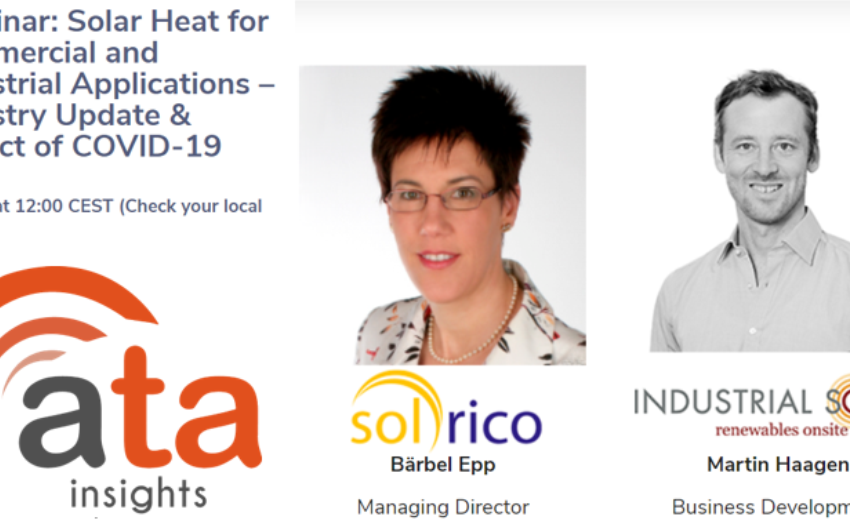 Webinar on SHIP industry update & impact of Covid-19
On 14 May, Spanish-based renewable energy consultancy Ata Insights will be hosting a webinar to discuss how the industrial solar heat market developed in several regions in 2019 and in what way the current pandemic will most likely affect its short- and mid-term prospects. The consulting firm has invited two speakers to share their insights at the event, namely the owner of German agency solrico, Bärbel Epp, who will give a detailed account of last year's trends in key SHIP markets and the industry globally, and German manufacturer Industrial Solar's business development manager for the MENA region, Martin Haagen, who will explain the impact of falling fossil fuel prices on the cost and feasibility of industrial solar heat projects.
You can register for the one-hour webinar
online
. The event will take place on Thursday, 14 May, at 12 am Central European Summer Time and will be moderated by Belén Gallego, CEO of Ata Insights.
The two speakers will highlight the opportunities and challenges in SHIP markets worldwide. 2019 saw record high additions of solar industrial heat capacity (251 MWth), led by Oman, China and Mexico. The overwhelming majority of new installations were parabolic trough collectors. By year's end, at least 817 SHIP systems (totalling over 700 MWth) were delivering process heat to factories. However, SHIP technology suppliers were again held back by long project turnaround times. Only 30 % out of about 80 companies commissioned at least one SHIP system in 2019. To speed up projects and cut costs, system suppliers have set up mutually beneficial partnerships with providers of conventional technology solutions as well as third-party financers.
Discover new opportunities of C&I solar heat
Ata Insights launched its monthly webinars at the beginning of this year, with solarthermalworld.org being the
media partner
for this event series. The recordings and presentations from all previously held webinars can be found by clicking on one of the following links:
Organisations mentioned in this article: